Premier League: Tim Sherwood says his future is up to Tottenham Hotspur
Tim Sherwood has claimed the 'silence is deafening' regarding his long-term Tottenham Hotspur future.
Last Updated: 12/03/14 11:26am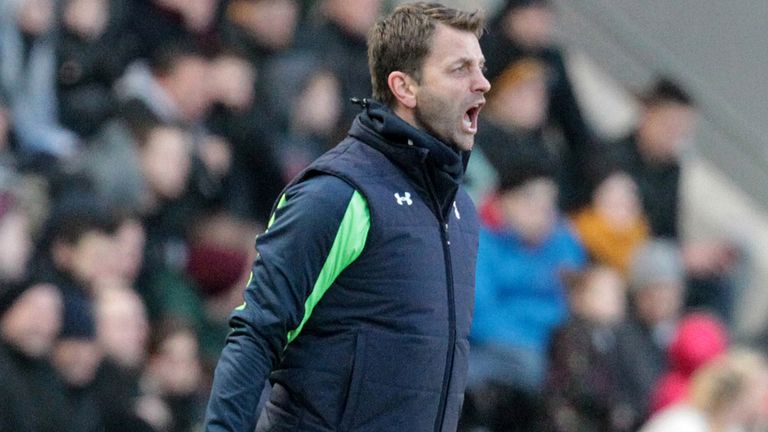 Former Spurs midfielder Sherwood took charge at White Hart Lane in December following the departure of Andre Villas-Boas and he was handed a contract until the end of next season.
However, there have been constant rumours that Sherwood will be replaced in the summer, with veteran Dutch coach Louis van Gaal linked with the post.
There have been reports that Sherwood could work as the assistant to any new manager, but it is a role that the current Spurs boss has no interest in.
Sherwood has acknowledged that his future lies in the club's hands, but he has heard nothing from Spurs chairman Daniel Levy.
"The silence is deafening, isn't it?" said Sherwood after Saturday's 4-0 defeat at Chelsea.
"Look, the decision is up to Daniel. I didn't know if he was here or not. Maybe he was travelling?
"It's up to the club to make the decision. One thing I can guarantee people is that no one cares more than me.
"I want the team to do very well and it hurts me when they don't. I'm afraid I need people in that dressing room to be hurting like I am."
He added: "I never want to be a number two. I'd be no good, I'm too opinionated. I wouldn't want to do the job.
"But I do think there is a place for a technical director. I'm someone who sees the club from the bottom to the top on the training field.
"A lot of clubs need people like that otherwise you get no continuity and end up buying seven or 10 players every window and your turnover of players is too great."
Spurs' defeat at Chelsea left the team four points adrift of the UEFA Champions League places, but having played three games more than fourth-placed Manchester City.
Sherwood insisted they have no chance of finishing in the top four if they cannot beat the top sides and bemoaned the 'lack of characters' after the loss at Stamford Bridge.
"We aren't going to finish top-four if you can't beat the top teams. It ain't going to happen, you're miles away unless you beat the top teams," he told Sky Sports after the game.
"You have to pick up some points. All right, we beat [Man] United and Everton around us, but you can't rely on rolling over the smaller sides - it does not work out like that. We did all right in patches, but there are too many blips - you are talking about fourth, people at the club, but wake up."
Asked what he put the "capitulation" down to, he answered: "Lack of characters.
"Too many of them are too nice to each other. You need to show a bit more gut and not want to be someone's mate all the time and it can't always be me having a pop - they have to drag it out of each other. It hurts me.
"I'm not going to forget this by the time we hit the motorway. Some might - but on to the next match. That is the nature of the game."
However, former Spurs Glenn Hoddle disagreed with Sherwood's decision to question the character of his players after the game.
"It's a different era now," Hoddle told Saturday Night Football.
"I agree he was very honest but personally that's something you say in the dressing room to the players. You might come out and disguise what your feelings are.
"Management is about when things are going wrong. When you're playing well and winning, it's easy to be a manager of a Premier League side.
"He's being tested now. His testing time is coming now because of this result and other results like Norwich away. That's when Tim Sherwood is going to be tested as a manager.
"But it's not his fault that his players went and made those mistakes, they were individual mistakes.
"That's not down to the manager. He didn't set them up to make those mistakes."