Sky Sports pundit Alan Curbishley believes Tottenham boss Tim Sherwood is right to publicly criticise his players
Sky Sports pundit Alan Curbishley believes Tottenham boss Tim Sherwood was right to criticise his players in public.
Last Updated: 10/03/14 12:34pm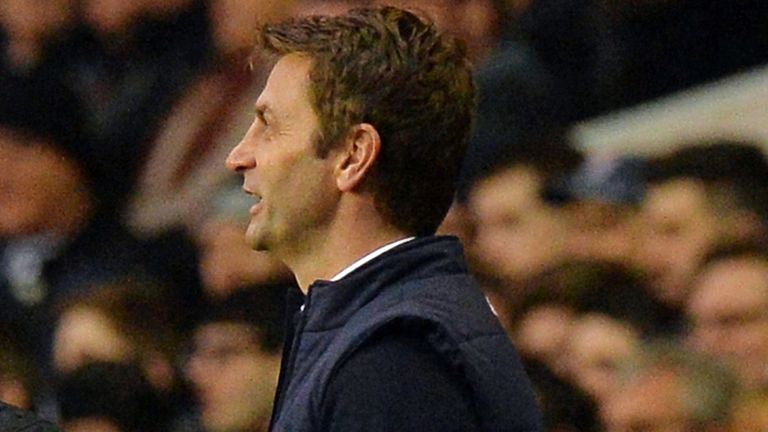 Sherwood questioned the character of his team following their second half collapse at Stamford Bridge, where they conceded four goals in 34 minutes.
Spurs defender Younes Kaboul was dismissed for conceding the penalty that led to the second goal, and the loss mirrored their surrender to Liverpool when they were beaten 5-0 at White Hart Lane in December.
But Sky Sports pundit Curbishley reckons the Spurs manager made the correct decision by not signalling out individuals in the team.
Speaking on the Monday View on Sky Sports News, Curbishley said: "I think he was distraught at the capitulation in the second half. Okay, they went down to 10 men but the way then Spurs tried to combat that and see the rest of the game out, it could have been six or seven in the end, which would have been a devastating result.
"For the manager to come out and do his criticism in public is a reaction. He's probably done it in private before and he's had no reaction, so he's thought, 'you know what, I'll do it public now', because it's normally the manager that takes the can for a defeat like that and gets criticism.
"He's clearly saying to some of those players, 'you're not doing enough, you're all too nice' and the telling one for me was 'I won't forget about this result when I get on the motorway', because the fans don't. The fans go all weekend suffering because of that performance and that result.
"And Tim Sherwood's saying 'I'll be suffering as well. I don't how many of (the players) will be suffering'. So I think to come out and do it in public is a consequence that it has happened a couple of times before, they've been well beaten and I think the Liverpool game was a similar one where they've had a player sent off and they've capitulated.
"He didn't actually name names. I think if he had named a couple of players then that would have been a bit different, but he was calling everyone on. The whole team and their attitude he was having a go at."
Curbishley also backed Sherwood in his comments about people at Tottenham being obsessed at a top four finish.
"I think for the last three or four seasons Tottenham have been talking about top four," Curbishley added. "And they've got in there once and they've been in and around it. And the investment in the summer was to get into the top four."
Meanwhile, former referee Dermot Gallagher believes Kaboul's red card for a challenge on Samuel Eto'o for the penalty incident was harsh.
Gallagher reckons match referee Michael Oliver was right to award the spot-kick but he feels Kaboul was not the last man and that Michael Dawson may well have cleared the ball coming off Eto'o.
"I can understand why he's given a penalty," Gallagher said. "I can't understand why he's given a red card. For me it's not a red card.
"The criteria is, is he in control of the ball or out to gain control of the ball quickly? I think, no. I think the ball is bouncing off his foot. Is he going towards goal? No. Is there a covering defender who can play the ball away? I think without doubt Dawson would sweep up."