Europa League: Benfica boss says Europa League is not his prioirty
Benfica boss Jorge Jesus insists the Europa League is his second priority ahead of Thursday's clash with Tottenham.
Last Updated: 13/03/14 11:40am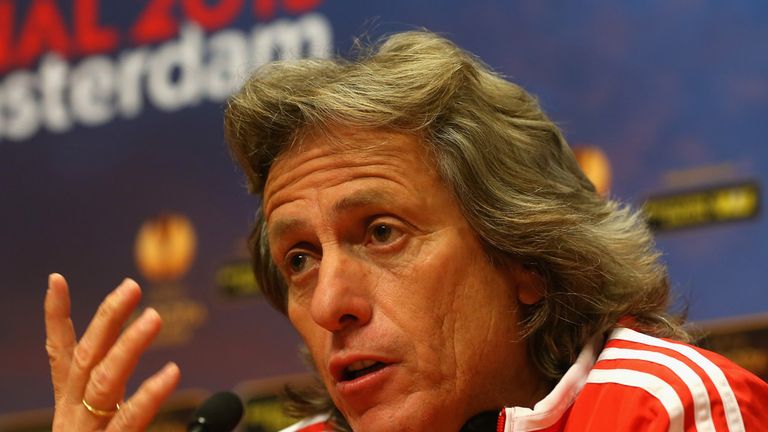 Jesus says the domestic title - and ending Porto's recent domination in Portugal - outweighs a bid for European silverware.
Porto have won the Portuguese title for the last three seasons and Benfica currently enjoy a seven-point lead over Sporting Lisbon at the top of the table, with the reigning champions a further two points back in third.
"We want to maintain the quality of play, knowing it's an important competition, but for us there are more important competitions than this," Jesus said.
"We will not change the plan now we're in the knockout round. Our idea is the same. The Europa League has more prestige for players and the coach, but for fans the league is far more important, and that is what we have said from the beginning.
"The advantage in the league does not change anything that Benfica can do. We will continue on a path in which the priority is the league."
Despite that, it appears that Jesus is likely to name a strong team at White Hart Lane.
"I will not change so much the team," said Jesus, whose side beat Estoril 2-0 on Sunday.
"Today the teams are English but most players are not," he said. "Most coaches are not either, although in this case he (Tottenham head coach Tim Sherwood) is. There is a completely different style of 'English'. Tottenham is surrounded by quality players, technically advanced."
Spurs have a big few days coming up with North London rivals Arsenal visiting three days after the European tie, but Jesus did not believe that would help his side.
"(We) will also have a game (at the weekend) with a lot at stake," he said. "In terms of responsibility and requirement, it is equal. I do not see any difference.
"The difference that can exist is the value given by the teams to each competition. Our priority is the league. Tottenham, I do not know."
Thursday's first leg will be the first time the clubs have met since 1962 when the Lisbon giants prevailed in a two-legged European Cup semi-final.
"It is an historical fact. I was only just born," the 59-year-old said. "It has no effect on the game on Thursday. We want to demonstrate the great team Benfica have had in the past, and in the last five years in Europe, where we have almost always done well. That's what we aim to keep doing - to continue to write the club's history."