Sandro backs Tim Sherwood as Tottenham hold crisis meeting after Chelsea thrashing
Sandro has revealed how Tottenham's players vented their anger in a two-hour meeting after the heavy defeat at Chelsea.
Last Updated: 13/03/14 10:16am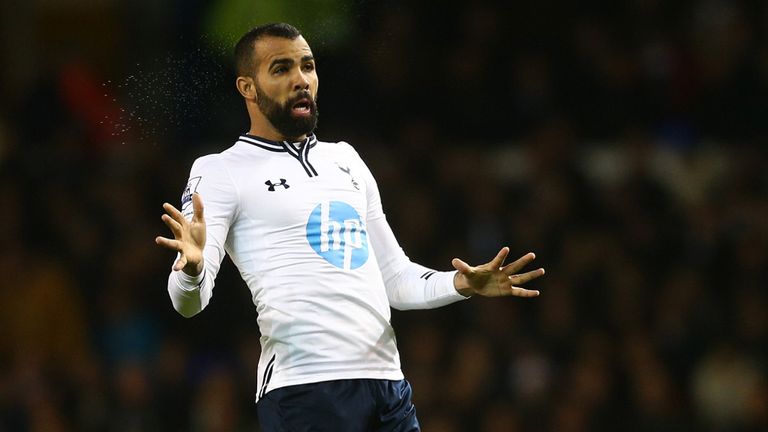 Tottenham's hopes of a Premier League top-four finish were severely dented by Saturday's 4-0 defeat at Stamford Bridge and head coach Sherwood lambasted his side, accusing them of lacking character.
The players were also branded too 'nice' by their angry boss, but Sandro has shed light on how his team-mates vented their frustrations in a lengthy dressing room inquest.
"We spent more than two hours in a meeting amongst the players and we said what we had to say," he said.
"From now on, we know that we all have to listen when anyone says something. It was after the manager's conference with the press.
"We had a meeting with the players. Sometimes one player got a bit more stressed out and we tried to calm him down and talk in a nice way. We spent about two hours that way. Every player had their fair share to say, put it that way. We all spoke amongst ourselves.
"For me, to be honest, it helped a lot because now I can go and tell another player, and another player can tell me. The manager likes it. Everyone can go for it now, and I think it will help.
"I think that is positive from ourselves and we have to show in the next match that we can do much better. And we will prove that. I am sure we will show much more character in the next matches."
Former Spurs boss Glenn Hoddle raised concerns about Sherwood's outburst, but Sandro insists he repeated his media comments to the players.
"He said the same thing to us as what he said to the press," the 24-year-old said.
"I know the manager is with us and we are with the manager. We need to show a bit more in the next match to tell the manager that we care. We will do that.
"Sometimes when you lose games in that way everyone gets cross and we all scream and shout.
"Maybe some managers shout more than others. (Former manager Andre) Villas-Boas, for example, liked to pull you aside and have a nice chat to you to explain things.
"But other managers are more vocal. As professional football players, we have to work with all managers and do our best for them and for us."
Sandro hopes a fired-up Spurs side will produce a response in Thursday's Europa League last-16 first-leg clash with Benfica.
"After a match like this (against Chelsea) we were all upset with what happened on the pitch and I think we have to put in some more effort than we did," he said.
"The manager said we need to show more character. Maybe it is that. We have this big game against Benfica, where we can show that we are better than that."