Gary Mabbutt believes Tottenham are capable of claiming Champions League place
Gary Mabbutt believes Tottenham have proven in recent weeks that they are capable of securing a Champions League place.
Last Updated: 28/03/14 4:42pm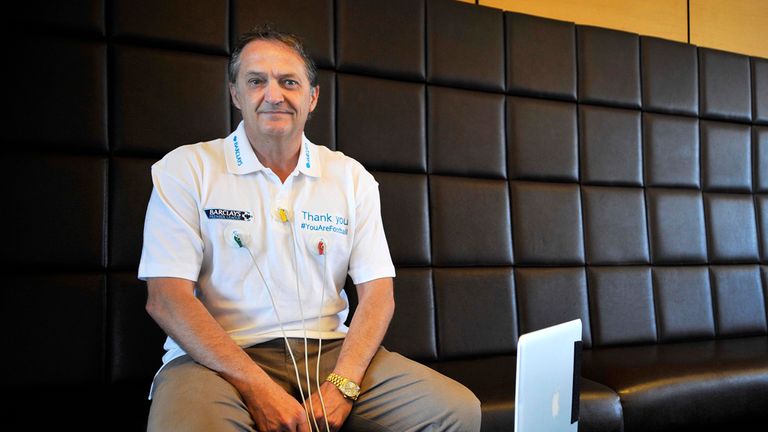 Tottenham have endured something of an up-and-down campaign and are currently seven points behind their north London rivals Arsenal in fourth going into the weekend's games.
While Arsenal host Manchester City looking to keep their faint title hopes alive, Spurs face an equally tough game away at Liverpool, who themselves are in the hunt for the Premier League crown.
Mabbutt, who made over 600 appearances for Spurs between 1982 and 1998, believes his former club need to take something from the Anfield clash if they are to stand any chance of securing a Champions League place.
He told Sky Sports News Radio: "After the Chelsea game Tim Sherwood very passionately called for more character and commitment from the players and since then, in the Arsenal game, despite losing, I thought the players were spirited and put in a good performance.
"Then at Benfica, again the players put in a good performance, then they came back from two goals down against Southampton to win the game 3-2.
"Overall in the last few games the players have risen to the challenge and now of course there's a huge game at Anfield on Sunday.
"We have to get something from this game. We're seven points off Arsenal in fourth place, we're still fighting for a Champions League place, and we've shown in the last few games that we're going to win more games than we'll lose.
"But Liverpool are going extremely well, they've exceeded everyone's expectations this season, and the performances of Suarez, Sturridge, Gerrard, Mignolet have driven Liverpool forward quicker than we thought they would.
"We have to be very strong defensively. We've conceded 40 goals this season, Liverpool have conceded 38 which is very similar, but we've scored 40 goals and Liverpool have scored 82.
"That shows that despite all the possession and dominating games this season that we've had we've not been able to turn that into goalscoring chances so that's what we have to do.
"We have to put in a very spirited defensive performance and try to catch Liverpool on the counter attack and take advantage.
"There are 21 points to be played for. We're seven points behind Arsenal and have to rely on those top teams losing two or three games so it's a big ask but we need to focus on the game at Liverpool and make sure we get something out of that."

Sherwood challenge
Mabbutt is not surprised that Tottenham have struggled at times this season after such a big overhaul of players in the summer, but he believes Sherwood has inspired an improvement in performances since taking over from Andre Villas-Boas.
He said: "When you bring in seven new players at the start of a season it's always going to be difficult to get those players to settle in as quickly as you would like.
"When Andre Villas-Boas was manager I think it was a difficult thing for him (to deal with) but he was trying to fit square pegs into round holes at times.
"I don't think the players were being played in their best positions, he found it difficult to find a system that the players felt comfortable with.
"Tim has come in with a very strong coaching team behind him knowing how they want the game to be played.
"Emmanuel Adebayor has come in and responded to being brought back into the side and during that time Tim has questioned the commitment and the players have responded so if we can put in those same performances between now and the end of the season we will put ourselves in a good position."
Despite some good results under Sherwood, speculation persists that he will be replaced at White Hart Lane in the summer.
Mabbutt, however, insists Sherwood will be paying little attention to those rumours.
He said: "When you're a manager in the Premier League you know full well whether you're winning or losing and whether the team is playing well or you're having an awful time, there's always going to be speculation, there's always going to be someone who's getting his agent to put his name forward for a job in the Premier League.
"Tim's been given a great opportunity. The chairman has given him an 18-month contract to prove he's the man to take the team forward.
"Tim has always worn his heart on his sleeve, as a player he never shirked a challenge, and you can be sure that he's adopting exactly the same approach in management."
European aspirations
If Tottenham fail to claim a Champions League place, some pundits have suggested they would be better off missing out on Europe altogether due to the strain playing in the Europa League can place on a squad.
Mabbutt, however, refutes such suggestions, adding: "If you're a player you want to win every single competition that you're in and I never heard a player say after a game on a Saturday that he wants the manager to rest him for a game on Thursday.
"The players want to play in every game and win in every competition so, as far as I'm concerned, if we don't make the top four we have to beat Everton and Manchester United to fifth place.
"European football is paramount to Tottenham Hotspur and we're doing everything we possibly can to make that possible."
Gary Mabbutt was speaking ahead of the Barclays #YouAreFootball Experiment. As part of the campaign to thank fans for making the Barclays Premier League what it is, Barclays is tracking the emotions of fans through monitoring their heart rates during this weekend's matches. For more information, visit www.facebook.com/barclaysfootball and join the conversation with #YouAreFootball.