Premier League: Erik Lamela sees debut season at Tottenham cut short
Tim Sherwood says Erik Lamela will not figure again this season and still has plenty to prove at Tottenham.
Last Updated: 17/04/14 8:47pm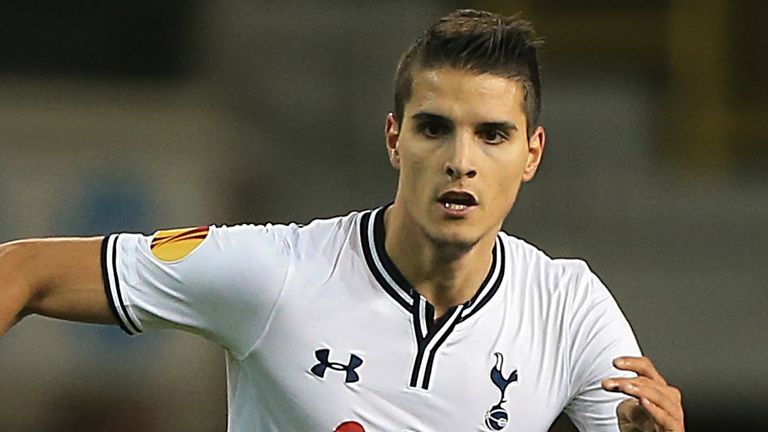 Spurs splashed out £30million on the Argentine playmaker last summer, but have seen him offer little return on that sizeable investment.
A debut campaign blighted by injury has delivered just three Premier League starts and one goal in all competitions - with that coming in the Europa League.
He is unlikely to get the opportunity to improve on that record before the summer, with Sherwood claiming that a back complaint will keep him on the sidelines.
The Spurs boss has also sought to bring an end to disruptive rumours suggesting that he has been put under pressure to play Lamela before the season comes to a close - allowing him to work on fragile confidence.
Sherwood said: "There'll be no chance Erik's fit.
"I read in the paper, or someone told me, that the hierarchy here are asking for him to get more opportunities. Chance would be a fine thing, he's injured."
Lamela has not figured for Spurs since stepping off the bench against Stoke City on 29th December - and for that reason Sherwood believes it would be wrong of him, and others, to pass judgement on what he has to offer.
He added: "You know what, I haven't seen enough of him. He's never been fit.
"I think he was fit for about three weeks while I was in charge, and then he's been out injured.
"That's still an unknown quantity as far as I'm concerned. I've assessed the rest of the squad and I've got my ideas on who's capable and probably who's not. On Erik, the jury's still out on him because I haven't seen enough of him, so he's been very unfortunate.
"I think the benefit he will have is he'll be settled so he'll improve from that, but as regards settling into the Premier League, I think the jury's still out because he's not played enough football."
On those branding the South American a big-money flop, Sherwood said: "I think it's unfair because obviously he has not been fit, so it has been hard to judge.
"The price isn't his fault. He comes with a huge price tag, but it is not Erik that sets that price."