Premier League: Tim Sherwood insists Tottenham will attack Fulham
Tottenham boss Tim Sherwood has promised to go on the offensive this weekend when his side host struggling Fulham.
Last Updated: 18/04/14 3:44pm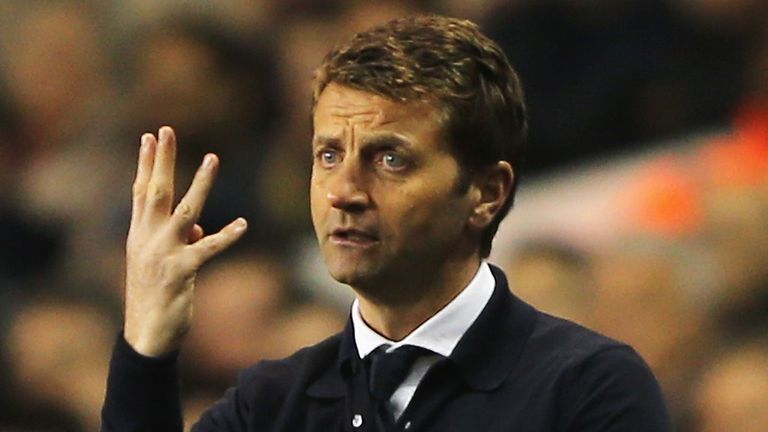 Last weekend, Spurs were caught cold as West Brom surged into a 3-0 in the first half at the Hawthorns before the north London side rallied and clawed their way back to grab a last-gasp 3-3 draw.
It represented another inconsistent performance from Spurs, who have often threatened to challenge for a UEFA Champions League place without ever truly fulfilling on the promise.
Sherwood took over as Spurs boss from Andre Villas-Boas just before Christmas but it is thought the club will relinquish him of his first-team duties this summer.
If the last four games of this season are to be his last as Spurs boss, Sherwood has vowed to provide some entertainment for the fans.
"We hope they come flying out of the blocks and we score more than them, because it is still three points," he said.
"We don't want to do what we did against West Brom, but if we have to score four and they score three then I'm happy.
"The duty of care comes towards our fans, and playing for the shirt of the club, not worrying about anybody else.
"They've got themselves into that situation because they haven't been great, and that's the bottom line.
"The league doesn't lie after 38 games and where you are is where you deserve to be.
"We're going to be professional and we're going to try to go there and entertain our fans and we're going to attack.
"That's what we've done ever since I've come to the club and that's what we're going to continue to do."
Tottenham have won 11 of the 23 matches that Sherwood has been in charge for and they are currently sixth in the table, six points behind fifth-placed Everton.