Premier League: Tim Sherwood unsure of Tottenham's best XI
Tim Sherwood claims he could not name Tottenham's best starting XI as his players are all 'much of a muchness'.
Last Updated: 19/04/14 11:24am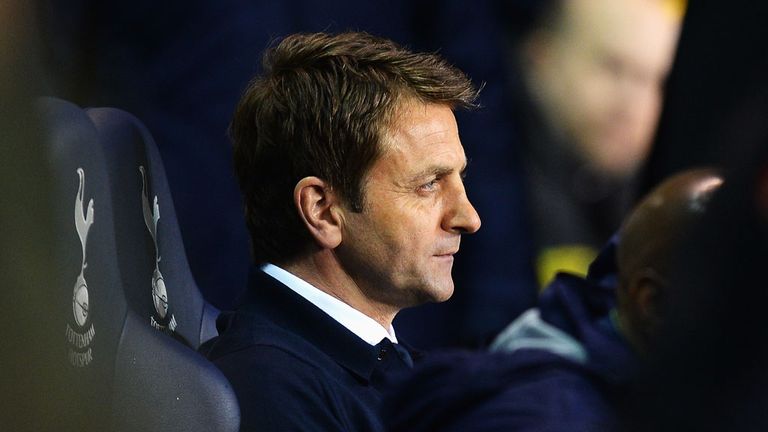 Spurs splashed out over £100million on new talent last summer, with the funds generated by the record-breaking sale of Gareth Bale to Real Madrid pumped back into the side.
Few of those acquisitions have delivered, though, with Danish playmaker Christian Eriksen considered to be the best of an under-performing bunch.
With few standout performers within his ranks - goalkeeper Hugo Lloris and striker Emmanuel Adebayor aside - Sherwood concedes that naming a settled side remains difficult despite having been in charge at White Hart Lane for five months.
Ahead of a London derby date with Fulham on Saturday, he said: "I couldn't tell you my best team, and I don't know whether that's good or bad.
"I have assessed the players more than anyone and I could not tell you the best XI at Tottenham. They are all so similar; much of a muchness regarding quality. I'm not sure there's any hierarchy.
"Our two exceptions are the goalkeeper and Emmanuel Adebayor. Christian Eriksen is getting there, you can't leave him out at the moment.
"They are all good, but - and the fans know it themselves - are there any world-class Gareth Bale-type players? No, there are not.
"But it is unfair to compare anybody to Gareth. He is exceptional, isn't he?"
Tottenham will be expected to dip back into the transfer market when the window re-opens, and Sherwood believes more options are required in the middle of the park.
He added: "You always look for a blend, and some of the guys are similar in the way they play.
"We need different types of midfield player, for instance."