Tim Sherwood warns Spurs to avoid a big name appointment.
Tottenham boss Tim Sherwood warns Spurs against making big name appointment.
Last Updated: 26/04/14 12:05am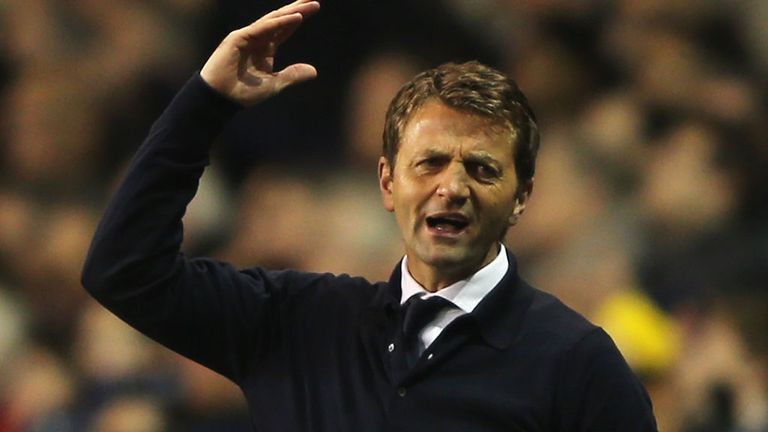 Sherwood is widely-expected to leave White Hart Lane in the summer, with Mauricio Pochettino, Frank de Boer and Louis van Gaal amongst the bookmakers' favourites to replace him.
The former midfielder made a promising start after replacing Andre Villas-Boas at Spurs in December but recent stuttering form has led to ever-increasing speculation about his future.
"It's important for the club, and for any club, to know what they want and not
to just get anyone as they are the biggest name who can appease the fans for 10
minutes," Sherwood said.
"Those guys still get the sack wherever they go, so it's about getting the right man for the right job and the right fit. The game has gone crazy.
"I'm watching a game the other day and you are getting people criticising Pep Guardiola. What is the world coming to?"
Sherwood claims there is a different mentality at Spurs compared to a club like Liverpool where the fans idolise home grown players like Jamie Carragher and Steven Gerrard.
"Liverpool are a different kettle of fish to us," he said. "Home-grown players at Liverpool are embraced.
"They love home-grown players at Liverpool Football Club. Tottenham fans like
signings.
"Ledley King is a legend here but it took him a lot of time to achieve that. To be one of the best players. Look at the other home-grown players. Do they get much time? Do they get a lot of pressure?
"Harry Kane scored three in three but if he has not scored in half an hour they are still signing Robbie's (Roberto Soldado) name to come on. It is very difficult."
Sherwood is also proud of his 58 per cent win ratio which is the best of any Tottenham manager in the Premier League era beating Villas-Boas, Harry Redknapp and Martin Jol.
"The record's good - it is better than any Premier League manager in the history of this club," he added.
"In the Premier League the results have been there so I can't complain about that. Hopefully they will continue from now until the end of the season.
"But whatever happens, I can hold up my head and say I've done a decent job in the Premier League.
"There has been no-one at this club who has done a better job at the Premier League. My record stands for itself."