Premier League: Tim Sherwood insists Tottenham are up for the fight
Tim Sherwood hailed the fighting spirit of Tottenham following their 1-0 victory over Stoke.
Last Updated: 27/04/14 3:55pm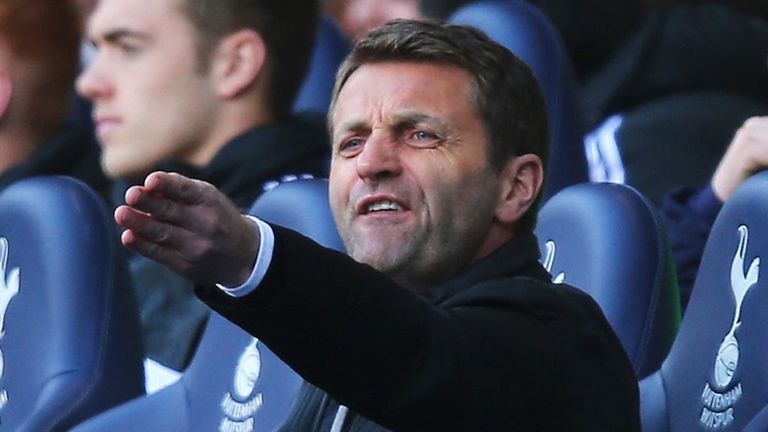 Sherwood's future is in serious doubt, but the Spurs manager is determined to make sure the club finish the campaign as strongly as possible with fourth place still a possibility.
"At this stage of the season it's about trying to get the points," he said. "It can't always be pretty, sometimes you have to dig in and work for each other and I thought we certainly didn't look like a team who had their sunglasses and flip-flops packed ready to go on holiday.
"They've realised there's still a job to be done for the great travelling support that we bring and they will try their best right to the death.
"We've got two more games. We go away to West Ham, which is a derby that we need to win, and then we come home and we're going to send them away happy after beating Aston Villa in the last game of the season. That's what the plan is.
"I continue to do my job, prepare the players the best I can and make sure they are up for the fight right until the final whistle of the season. If we continue to win, then all good."
Tottenham had a man advantage for the final 38 minutes of the match after Stoke captain Ryan Shawcross picked up a second yellow card for a foul on Rose.
But the hosts responded to the crowd's sense of injustice and finished the game looking much the stronger team.
Sherwood said: "It's a tough place to come, and we knew that. They've taken some big scalps here, they've only been beaten three times, and probably on everyone's coupon this was a banana skin, but it never looked like that.
"We should have come in at half-time more than two goals up. We dominated the game. I said to the players at half-time to be a bit more patient on the ball, a few more forward runs and we'll create something, but it seemed to give them the initiative after they went down to 10 men.
"The crowd were fantastic, drove them on, and we had to fight it out. But there were some good performances.
"The criticism of Tottenham teams in the past sometimes was they didn't want to fight it out but this team don't roll over and they're willing to put their bodies on the line for the cause. I demand nothing less than that."