Premier League: Tottenham's Emmanuel Adebayor hopes Tim Sherwood keeps job
Emmanuel Adebayor hopes Tim Sherwood will be retained as Tottenham Hotspur manager next season.
Last Updated: 05/05/14 4:26pm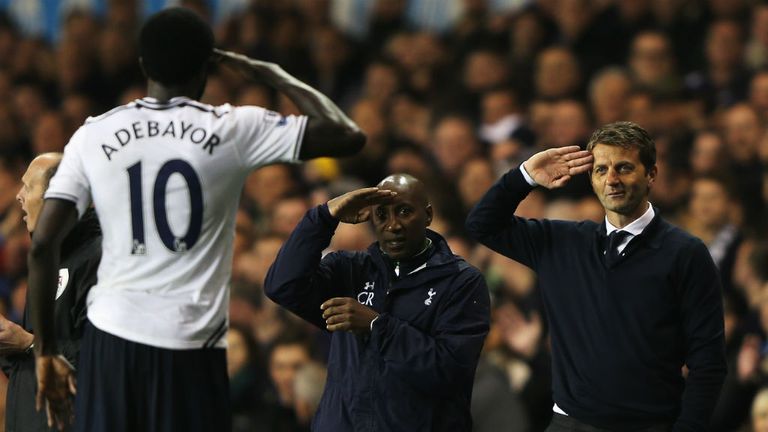 The Togo striker's future at White Hart Lane looked to be in doubt after falling out with previous boss Andre Villas-Boas, making just one substitute appearance in the first 26 matches of the season.
However, Adebayor has enjoyed a new lease of life under Sherwood, and insisted, if he had his way, the rookie boss would be retained.
"Hopefully he stays, but I am not the chairman of the club so I can't tell you anything about that," Adebayor told the Tottenham Journal.
"We will see what happens in the future.
"No matter where he goes, I will always keep him in my heart and I have a huge respect for him - as a manager, as a friend, as an ex-footballer, because he knows what it takes to be a footballer.
"He respects everyone equally, and for me he is a great man and a great manager."
Adebayor also revealed he is happy at the club having fought his way back into the first-team fold, and is already looking ahead to the 2014/15 campaign.
"I just want to forget the bad moments and look to the good ones and the good games I have played and learn from that, and work hard for the next season," Adebayor added.
"Hopefully I will have a proper pre-season, because for the last three years I haven't had one. It's very difficult for a player not to have a pre-season.
"I'm definitely looking forward to that one and hopefully this will lead to my best season ever. I have the quality and a big belief in myself. I know I can do it and I will do it."