Tottenham's Tim Sherwood axe always planned, says Darren Anderton
Tottenham Hotspur may never have intended to keep Tim Sherwood as manager, believes Darren Anderton.
Last Updated: 14/05/14 4:41pm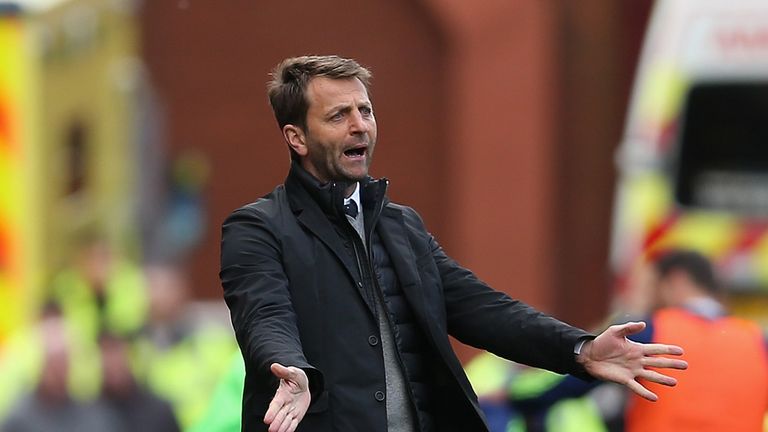 The former Spurs winger was talking to Sky Sports News 24 hours after Sherwood's 18-month contract was terminated.
Sherwood, already favourite for the vacant manager's post at Brighton, replaced Andre Villas-Boas but was only in the job at White Hart Lane for five months and endured weeks of speculation on his future as he steered the team to Europa League qualification.
Despite a win rate of 59 per cent, that record proved to be not good enough for chairman Daniel Levy.
Anderton, at Spurs between 1992 and 2004, said: "They gave him 18 months and there was a break clause and maybe this was the way (Levy) thought it would go.
"There was a World Cup coming up and the top managers were still involved in the Champions League.
"If Tim had got them into the top four then maybe he would have kept his job. Who knows?
"The team got into the Champions League two years ago under Harry Redknapp and once you're in it then you want it every year and that has to be the aim."
Sky Sports News revealed in early April that Sherwood was to be sacked at the end of the season and that Tottenham were actively pursuing his successor.
Weeks of reports linking other managers to White Hart Lane followed, including Holland coach Louis van Gaal, Ajax boss Frank de Boer and Southampton manager Mauricio Pochettino.
De Boer claimed over a fortnight ago that Tottenham had approached Ajax to inquire about his potential availability, while Pochettino has been made the favourite to take over by Sky Bet.