Transfer news: Emmanuel Adebayor planning to stay at Tottenham
Emmanuel Adebayor insists he has no plans to leave Tottenham and has rejected claims that he is a football mercenary.
Last Updated: 16/05/14 2:19pm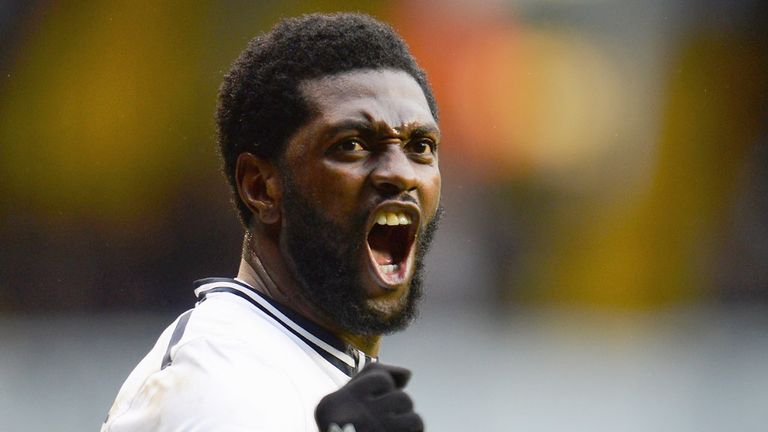 Togo striker Adebayor has encountered controversy during his career after his acrimonious departures from Arsenal and Manchester City.
Adebayor left Arsenal for City for £25m in the summer of 2009 and then found himself out of favour under then City boss Roberto Mancini before being shipped out on loan to Tottenham, who then signed him permanently.
The 30-year-old came close to quitting Tottenham earlier this season after finding himself frozen out of the first team by Andre Villas-Boas, but he came in from the cold under Tim Sherwood following the Portuguese's departure.
Adebayor is entering the final two years of his contract at Tottenham and he admits he is not thinking of moving, even if he again finds himself out of favour under whoever is the new manager.
Asked if he would be at Tottenham next season, Adebayor told the Daily Express: "I will be a Tottenham player.
"At the moment I have got two years left on my contract. But what happens if I wake up and what has happened to me in the past has happened again?
"What if the chairman called me and if the new manager says about moving me on, what do you want me to do?
"But it is like I said. At the moment I can't consider going anywhere."
Adebayor is also unsure why people question his motivation, saying he plays the game for the love of it rather than for financial gain.
"I don't know why people keep saying, 'Ade's always playing for a contract'. I never played for a contract. I always have a four or five-year contract wherever I go to," added Adebayor.
"I had just signed a big contract when I left Arsenal. I left Monaco after I had just signed a big contract.
"So I played for Arsenal for three years. So are you going to tell me that for three years I was looking for a contract all those three years? No. I had just signed a contract and the manager said to me, 'Adebayor, I don't need you anymore. You have to move on'.
"When I left Manchester City, I still had four years' contract left. So what am I looking for? Am I looking for even more contract?
"So when I came to Tottenham, the first year was on loan when everything went very well with Harry Redknapp. I came back, I signed, we got this new manager AVB, things are not going so well. Everybody said, 'He's signed his contract, he became lazy'.
"If I sign a contract today that says I am worth £1m, tomorrow I want to be worth £2m. If they give me £2m, I want £10m. That is what football is about.
"Because we are stopping the season, now people are saying in the last games I am going to play for a contract. I don't play for a contract. I play because I love the game. I am passionate about the game."