Former Tottenham defender Paul Miller backs new boss Mauricio Pochettino
Former Tottenham defender Paul Miller has welcomed the arrival of new manager Mauricio Pochettino.
Last Updated: 28/05/14 3:11pm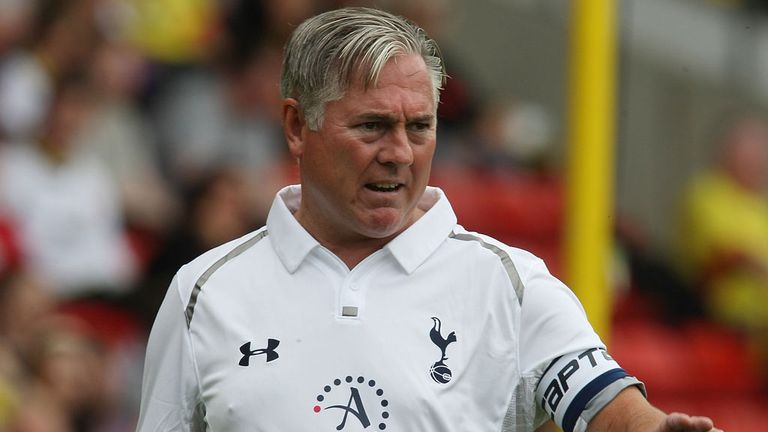 Miller, who played over 300 times for the north London side and currently has a role at White Hart Lane as a Spurs ambassador, thinks that Pochettino will prove to be the right choice.
The 54-year-old said: "I hope so, we all heard the big names branded about, with the delay there was even talk of Carlo Ancelotti after the European Cup win but I think Daniel Levy has gone for a young guy.
"He's still to prove it but he'll obviously be hungry but he has been good working with young players on limited budgets.
"We have had too many managers in the last ten years, I think we all know that, all we want now is to give somebody a couple of years and four transfer windows, let him make his own impression and impact on the team and then ask the question later.
"This six month - three month thing that is happening with managers has got to stop because you don't have continuity and that is a problem for the players."
Miller played alongside Spurs legends Ossie Ardiles and Glenn Hoddle at White Hart and he wants Pochettino to play the type of football that Tottenham fans demand.
He said: "It has always been the way that Tottenham have played since the push and run era of the fifties and it is expected and demanded, what the fans want is success as well.
"It is all about money these days and we are number six in the country as far as finance is concerned, realistically and let's not carried away, fifth or six for us is good with some cup runs.
"The most important thing for me is to build the stadium and then we can compete with the other lot down the road (Arsenal), Man Utd and all the other clubs. When we do that we can have better players and pay better wages.
"Last year we spent nothing, what came in will go out for the next three or four years. The club runs itself quite well and Daniel (Levy) is fantastic on the finances.
"But we do have to trim the squad, I think some of the players we have got in have not been good enough and that's a fact.
"There were some there that needed to go and we need to buy some players. We need two or three defenders because that is a problem for us at the moment."