Harry Redknapp's England claims unhelpful, says PFA boss Gordon Taylor
Last Updated: 24/06/14 6:12am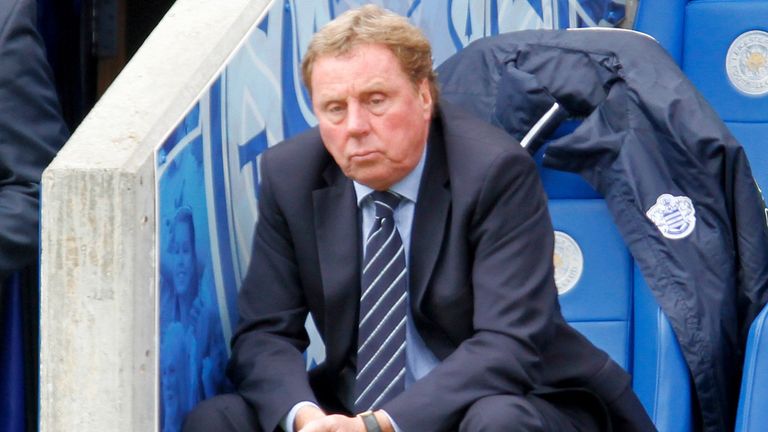 Harry Redknapp's claims that Tottenham players tried to get out of playing for England are "grenades" which are not helping the national team's cause after their World Cup heartbreak, according to Professional Footballers' Association chief executive Gordon Taylor.
Redknapp made the claims in an interview on Sunday, the day after England's elimination from the tournament was confirmed.
England's 2-1 defeats against Italy and Uruguay had left them on the brink, and Costa Rica's surprise victory over the Italians ensured an early exit for Roy Hodgson's side.
"I don't think it helps to stir up such things now when everyone is disappointed that England are out of the World Cup," Taylor told Sky Sports News.
"We should be focusing on salvaging pride against Costa Rica on Tuesday but it's what makes the world go round.
I don't think it helps to stir up such things now when everyone is disappointed that England are out of the World Cup.
Gordon Taylor
"It's a little bit mischievous to throw out grenades like that at the end of a World Cup disappointment and just before our final game, I think we've all got to get focused and move on."
England captain Steven Gerrard challenged Redknapp to "name names", something the QPR boss has now said he will not do.
"I understand Steven's concern but I don't want to get into naming names because it wouldn't be fair to the players. Every Premier League manager past and present knows what I'm talking about," Redknapp told the Daily Mail.
"Probably even Roy Hodgson. But sadly this attitude is not unusual these days.
"You've only got to look at how many players pull out of an international game on Tuesday and Wednesday then are running about for their clubs the next Saturday to see that this is a very real issue."
Taylor said he was not aware of any England-qualified players deciding not to play for England, except for experienced stars who stepped down from international duty towards the end of their career in order to prolong their longevity at club level.
"I do think that any player, given the chance to play for England, would carry their bags round the world," said Taylor.
"I know and admire Harry. I don't know in what context he's said it but I'm perfectly happy to have a chat with him about it. He's a football man and it may have come from one particular player for some special reason.
"You think about absolutely top class players like Alan Shearer, Paul Scholes and Jamie Carragher who decided not to continue with England so they could continue with their club career but in general you think of players like James Milner who would go anywhere to be with England.
"I don't know of any youngsters who have [turned down playing for England] but I do know sometimes there's pressure from managers for players not to go because they've got big games coming up.
"You don't get players like Steven Gerrard, Frank Lampard and Ashley Cole having over 100 games for England if they're not fully committed."
Lampard, who will captain England against Costa Rica on Tuesday, said that the attitude was not commonplace in the national set-up.
"If there are individuals who feel like that, then I'm sure their England careers are nothing to write home about in the end," he said.
"It should be the pinnacle of your career and you can sacrifice to go away for two days, five days, four weeks or six weeks because if you want to be at home or on holiday with your mates then it wouldn't be the right attitude.
"I have never heard of it and I think if it was true - and I am sure Harry isn't telling lies - it would be very, very irregular and there would be very few players that think that way."
Taylor said he was not in favour of Football Association chairman Greg Dyke's controversial proposals to develop B teams in the lower tiers of English football, instead heralding the potential of the loan system to help young players develop.
"Our pyramid system is admired throughout the world and the way the likes of David Beckham, Andros Townsend, Joe Hart and Daniel Sturridge used the loan system is something we have to look at," he added.
"England have just won the Under-17 European Championships. We need to keep them together as a squad like Spain did and give them a chance to break through the glass ceiling with the loan system.
"The problem is we've got more foreign owners and managers and they want instant success. If you're going to bring youngsters through you need patience."