Premier League: Tottenham boss Mauricio Pochettino ready for Liverpool game
Last Updated: 29/08/14 1:01pm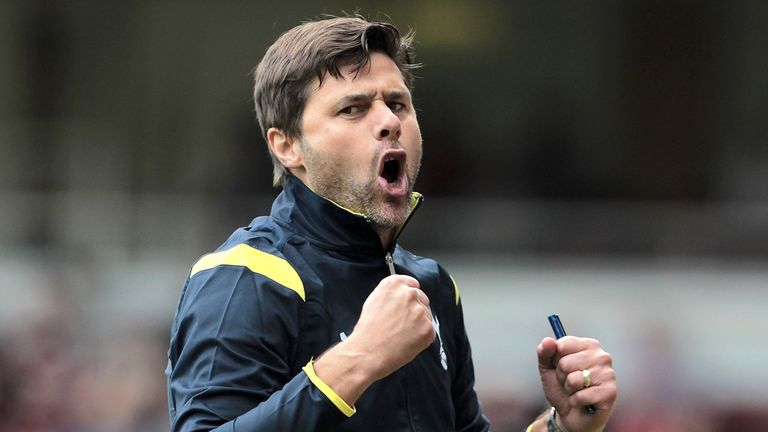 Tottenham manager Mauricio Pochettino is confident last season's 5-0 thrashing by Liverpool will not play on his players' minds when the two sides meet at White Hart Lane on Sunday.
Pochettino wants his side to focus on maintaining their 100 per cent start to the season as Spurs face their toughest opponents so far.
Tottenham increased their winning run to four matches following Thursday's 3-0 defeat of AEL Limassol in the Europa League play-offs.
Last season, Brendan Rodgers' side beat Tottenham 4-0 at Anfield having earlier in the campaign won 5-0 at White Hart Lane in a match which led to Andre Villas-Boas being sacked as Spurs manager.
"The past is the past," Pochettino said of those losses. "I don't want to remember the past.
"It is a new season, I think a different style, different philosophy. Liverpool invested a lot of money this summer and we went another way.
"We believe in our squad and add some players for the balance. Two different ways [of approaching things]."
It is a case of so far so good for Spurs as the players embrace the on-field approach which served Pochettino so well during his time in charge at Southampton.
"It is an easy method," the former Argentina international said. "It is not a difficult method.
"Our philosophy is play football along the grass, make good combinations, work hard and, at the moment, they are happy."
Pochettino dropped a hint that there may not be enough time for new signing Federico Fazio to adapt to the system before Sunday's match with Liverpool.
The Argentinian defender arrived from Sevilla on Wednesday as a replacement for Michael Dawson and was paraded on the pitch ahead of the AEL match.
"Wednesday was the first training session in the afternoon [with Tottenham] and yesterday with the players not in the squad he trained in the morning," he added.
"We will see. It is important that he adapts to the squad and the new philosophy because he played in Sevilla.
"Today it is too early to say if it is possible whether he will be involved in the squad for Sunday."
Watch Tottenham face Liverpool at White Hart Lane live on Sky Sports HD1 from 12.30 on Sunday