Kean focused on future
Blackburn boss Steve Kean insists relegation was not on the agenda when he met the club's Indian owners.
Last Updated: 20/05/11 4:15pm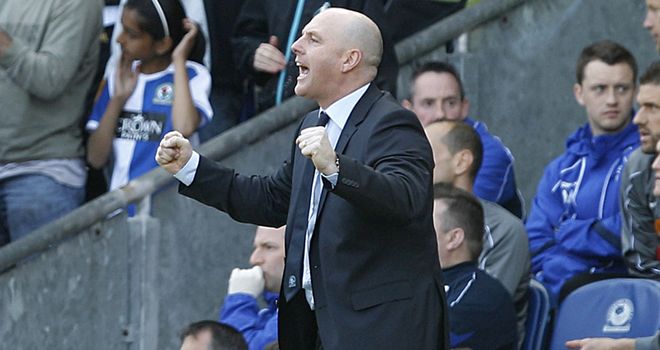 Blackburn boss Steve Kean insists relegation was not on the agenda when he met the club's Indian owners this week.
Rovers are still not safe going into 'Survival Sunday' - being one of five teams that could still be relegated from the Premier League.
Kean's side face fellow strugglers Wolves sitting just a point above the drop zone but the Rovers boss - who flew to India earlier this week to meet the Venkys family - insists the focus was completely on Blackburn's future in the top flight and not the dreaded drop.
Instead, he is looking forward to spending a 'very healthy' budget to push the club on next term.
Asked if the topics of relegation or his future if the worst happened were raised, Kean said: "We never spoke about that at all, we spoke about me being in charge of the club for the remainder of my contract and beyond.
"We spoke about the budget, what we'll be looking to do with the scouting team, what type of players we will be looking to bring in."
Kean said the budget committed by the owners would allow him to compete with the top clubs in the Premier League.
Fantastic budget
He added: "The most important thing was talking about the budget and I know now that that's very healthy, it's going to be a fantastic budget we've got to work with next year.
"What that will definitely mean is attracting good and established players, extension of contracts for people coming to the end of their contracts - Junior Hoilett being one of them - and having a budget to go and compete with teams in the top 10.
"We didn't mention any specific players but we mentioned positions and the wage bill we will need to go and get these players."
Kean added that Blackburn's current form meant they were itching to play the match.
He said: "Wolves have been quite animated - it's 'Beat Blackburn Weekend', it's 'Survival Sunday' down there - but we want to view it as 'Success Sunday' because we are in good form.
"It's not a case of us fearing going to Wolves, we are going into the game really looking forward to it and to have a really good ding-dong.
"We have been positive against City, United and West Ham and we are not going to sit back and play into their hands, and let them batter us with balls into the box."
Injury boost
Chris Samba, Hoilett and Jermaine Jones have given Kean a boost by shaking off injury niggles while he believes defender Gael Givet will not be distracted by an FA investigation into his transfer two years ago.
Reports this week revealed the player had paid a third party who is not a licensed agent in connection with his transfer.
Kean added: "I think there was a concern a number of months ago with Gael that he hadn't understood some complication that was in his contract.
"But he seems to have put that to bed and he's very focused, very happy with his football.
"It was unfortunate timing for this to appear in the press but it goes back a long way, over two years, to when he first came to the club.
"He's put all that to one side and he's now in a very, very good place and I don't see that now as a distraction.
"The good thing is that the club have stated they will co-operate fully with any investigation."