Dunn has sympathy for Kean
Blackburn midfielder David Dunn believes Steve Kean's dignity has shone through during a period when he has had to deal with a lot of pressure.
Last Updated: 04/02/12 11:26am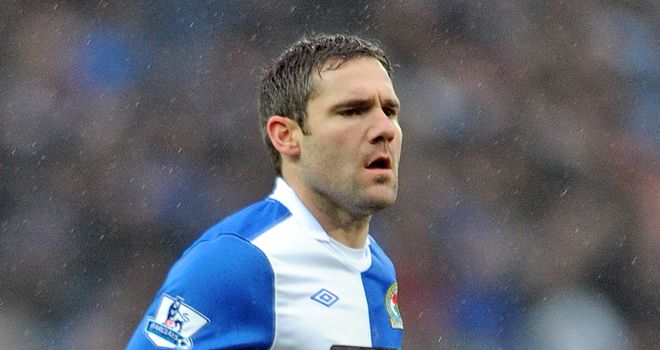 David Dunn believes Steve Kean's dignity has shone through during a period when he has had to deal with a lot of pressure, while the Blackburn midfielder is confident brighter times lie ahead at Ewood Park after signing a new contract last week.
Rovers are currently embroiled in a relegation battle after a season of struggle on the pitch, and supporters have regularly staged protests when they have called for manager Kean to be sacked.
Dunn feels sorry for the amount of criticism Kean has had to handle, but feels he deserves great credit for showing great strength of character.
The midfielder also hopes that Blackburn are finally moving in the right direction following some encouraging performances in recent weeks.
"I have sympathy for the manager because I think there are a lot of things he has had to deal with that he maybe shouldn't have had to deal with," Dunn told The Guardian.
"That is not me having a go at anyone, I just feel that at one stage he was trying to sort everything out.
"The one thing you can say about him is how his dignity and ability to handle things while stood on that line has come through.
"I'm not sure how I would react if I was getting that much abuse from my own fans. Hopefully that tide has changed a little bit now.
"In the last couple of weeks the performances have been very good.
"Things have picked up and the fans can see that. They know how much effort we are putting in but we are still in a battle."
Special
Dunn remains convinced that Blackburn can survive and, if that happens, he says they will have a much stronger unit next season.
"It has not been easy. There have been certain atmospheres at Ewood Park this season but, having said that, the fans pay good, hard money and are entitled to their opinion," he said.
"It has been difficult for the young lads and the senior players. I had it the other week when I heard some fan in the stand shouting off at me.
"It has made everyone mentally strong. I'm sure if you can play in front of some home fans who are venting their frustrations at the owner, manager and players you will be much stronger for it."
Dunn put pen to paper on a new deal last week to stay with Blackburn until the summer of 2013, and he remains fully committed to the club.
"This is the football club I know better than most and I still feel I've got a lot to give both in terms of playing and helping the young players," said the 32-year-old.
"There were options but this is where I am comfortable. I have left before and it didn't work out.
"With living in the area and seeing and hearing what everyone feels, it is special in a way. It can be difficult.
"I am not just a fan, I am a player here as well and I have been here for a long time. It is very important to have our identity at the club.
"We have always been known as a family-orientated club and it is important to keep the people involved. We don't want to lose too much of that."