Yakubu targets hat-trick
Yakubu Aiyegbeni is hoping to keep up his excellent scoring record against Man Utd and net a hat-trick at Ewood Park on Monday night.
Last Updated: 02/04/12 9:06am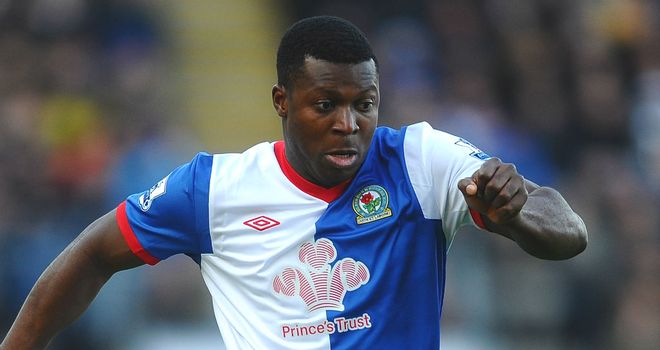 Yakubu Aiyegbeni is hoping to keep up his excellent scoring record against Manchester United and net a hat-trick when the Premier League champions visit Ewood Park on Monday night.
Yakubu struck twice at Old Trafford earlier in the season to inspire Rovers to a shock 3-2 victory against Sir Alex Ferguson's men.
The teams are now set to meet again in a match of huge significance at both ends of the table, and Yakubu has set his sights on a repeat performance.
The Nigerian believes Blackburn are capable of springing another surprise and admits he would love to notch a treble.
"Scoring against United is always special - they're one of the biggest clubs in the world," he said in The Sun.
"To score two that day at Old Trafford was a great feeling. You always want to be at your best when you play the biggest clubs.
"But I always think I can score, no matter which club I am playing against.
"Whenever I get the ball I believe I can score.
Fight to the end
"After I get my first goal I always feel I can go on and get a second. That's what happened at Old Trafford.
"Maybe I can do it again - to go one better and get a hat-trick against United. That would be great for me."
Yakubu has impressed for Blackburn since joining the club from Everton last summer, scoring 14 Premier League goals, but he is not yet satisfied and has set a final target for the end of the season.
He said: "I want to score more than 20 goals in a season. To score more than 20 in the Premier League is always a great achievement."
United have the chance to go five points clear at the top of the table after Manchester City were held over the weekend, but Yakubu believes there will be more twists and turns in the title race.
He said: "The league will be a fight to the end. City won't just give away the title.
"United could drop points at any time.
"Already this season we have won some games people did not expect us to win."