Kean eyes Reds good time
Blackburn boss Steve Kean hopes it will be a good time to play FA Cup semi-finalists Liverpool at Ewood Park on Tuesday.
Last Updated: 09/04/12 3:30pm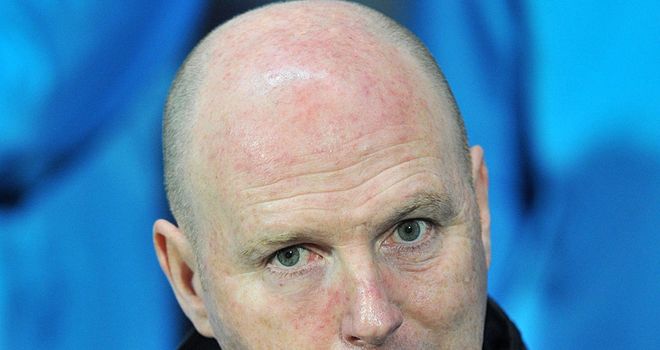 Blackburn boss Steve Kean hopes it will be a good time to play FA Cup semi-finalists Liverpool at Ewood Park on Tuesday.
Relegation-threatened Rovers meet the Reds in a crucial Premier League tie as they bid to end a run of three successive defeats which has sucked them back into the bottom three.
Liverpool have won only one of their last nine league games and Kean is hoping their focus is already starting to turn to Saturday's Wembley semi-final with arch-rivals Everton as they bid to lift two domestic cups this season.
The Blackburn boss said: "There is no reason why we can't go out and beat Liverpool. We've done it before last year. We played very well.
"Liverpool will have an eye on the FA Cup so us playing them now is a good time.
"It will be difficult for them not to think about the semi-final, so we will try to use that to our advantage.
"But they have got a very good squad, I have seen them live a number of times this season and they normally start the games very well and have had spells where they just haven't scored.
"Then their opponents have managed to get themselves in front and it has been difficult for them. But it hasn't been the case where they have played poorly."
Character strength
Kean believes the strength of character in the Rovers dressing room will help them win the survival battle.
But he is demanding his players produce their best form for 90 minutes and knows they can ill afford a repeat of the lacklustre opening 45 minutes they turned in during Saturday's 3-0 defeat at West Brom.
He said: "We might have got away with having a bad result from this round of games because we've not lost any ground.
"We have got a very good dressing room with characters in it that want to win and stand up for each other and themselves.
"But we know we can play better than in the first half at West Brom. We need to make sure we analyse the reasons for that poor display and get back on song against Liverpool.
"We only need to go back to the last home game against Manchester United where straight away we were focused and on our game.
"We have to bring that to the players' attention and try and spark ourselves into life a lot quicker.
"If we can put the first 80 minutes against Manchester United and the first 20 minutes of the second half against West Brom together, and have an overall performance, we can certainly get a result.
"But there are going to be a lot of twists and turns in this relegation battle before anything is sorted."