Kean calls for better defence
Blackburn boss Steve Kean has urged his side to tighten things up at the back as the battle for Premier League survival intensifies.
Last Updated: 11/04/12 4:16pm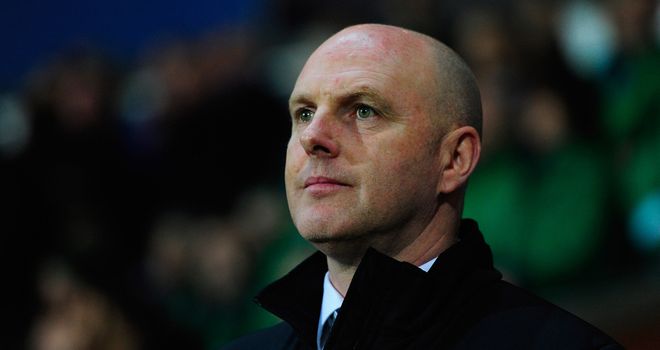 Blackburn boss Steve Kean has urged his side to tighten things up at the back as the battle for Premier League survival intensifies.
A last-gasp 3-2 defeat at home to 10-man Liverpool on Tuesday night kept Rovers in the bottom three and they face a difficult final month, starting with a trip to Swansea on Saturday.
Four successive league defeats have seen them concede 10 goals, but it was the manner of those against Kenny Dalglish's side, who were 2-0 up early on before being pegged back, which frustrated Kean.
Tighten
"I thought the first five or six minutes we were okay - we were better than we were against West Brom (Saturday's 3-0 loss) - but on the first goal we got done on the counter-attack," he said.
"But I always felt we could get back into the game and once we got the second goal we had wave after wave of attacks and I felt we were going to win.
"We need to go into every game looking to improve, certainly on set-plays because we look as if we can score on a set-play at almost every opportunity but are looking a bit wobbly when set-plays come into our box.
"We will be looking at when we have got a set-play we need to be more solid behind it so we can't get done on the counter-attack.
"But we can't go into games thinking we need to score four or five goals to win, we need to close the back door and defend better - it is as simple as that."
Rovers trailed to two early Maxi Rodriguez goals but after goalkeeper Doni was sent off for fouling Junior Hoilett they raised their game even though Ayegbeni Yakubu missed the resulting penalty.
The Nigerian scored with a header before half-time and then redeemed himself from the spot after substitute goalkeeper Brad Jones brought him down in the second half.
However, in the second minute of added time Andy Carroll snatched victory with a header.
"They (the players) are gutted. We just need to pick ourselves up, we can't feel sorry for ourselves," said Kean.
"If we had managed to hang on in there we would probably have been disappointed with a point - but it would have taken us up two places because of how tight it is where we are.
Twist
"People said to me after the Sunderland game 'Is that you out of it?' (Rovers were six points clear of the bottom three at the time).
"But I said there were a lot of points to be played for and there would be lots of twists and turns and there was a twist in the very last minute (against Liverpool).
"In the last five games there will be refereeing decisions which affect games, other things will happen and points will go possibly where they shouldn't have done."