Blackburn Rovers loan star David Bentley is not thinking about his future at Tottenham
Blackburn loan star David Bentley admits he is not thinking about his long-term future at the moment.
Last Updated: 11/03/13 9:54pm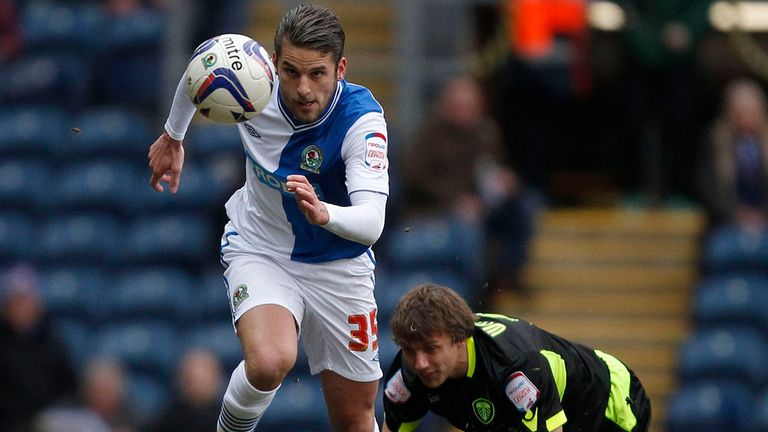 Bentley is out of contract at Tottenham in the summer and it seems unlikely he will be offered a new deal.
The winger is refusing to look beyond the end of the current campaign and will then make a decision regarding his future.
"I just think short term now," noted Bentley. "I spent too long thinking long term. I'm a bit older and wiser now, but whether that was brought upon me by other people or myself, that is just the way it is.
"I'm out of contract with Tottenham in the summer and I will re-evaluate what I do then, but at the minute I'm just enjoying playing. I spent a bit of time out not playing and it did my brain in.
"I was in Russia for a little bit and enjoyed my time out there. It was a different experience altogether and changed me as a person - it opened my eyes."
Meanwhile, former England international Bentley admits he is happy to be the pantomime villain when he travels to away grounds.
The 28-year-old was jeered by the majority of Millwall supporters when the sides shared a drab 0-0 draw in Sunday's FA Cup quarter-final at the New Den.
But, instead of berating the Lions fans who spent most of the game abusing him, Bentley insists there is not enough crowd interaction at games any more.
"That is what football is all about - there should be more of that," he said.
"Every ground you go to should be like that - the fans fully involved and involved with the players.
"That is all part of it. At times we all get a little politically correct with all the palaver that is going on in society at the minute.
"I personally think the fans should be allowed to drink, to enjoy themselves and to abuse the players. Why not?
"The players will just take it like I have. It is like a pantomime and it should be like that. I think that is the way it should be.
"It makes it more exciting. Football can, at times, seem a little bit boring and people are paying big money to come and see the game so I see no problem in what they say - so long as they stay away from racism and homophobia."
Bentley is accustomed to being on the receiving end of opposing supporters' taunts - but can understand why.
When asked if he was happy to be the pantomime villain, he said: "Yes, exactly. And why not? It is enjoyable.
"I've been at Arsenal, West Ham and Tottenham, so take your pick...
"When I played at Arsenal in the last round I only came on for 20 minutes but the crowd were all over me there. That is fun and I don't see no problem in that."