Transfer news: Bolton will not be bidding for Blackburn's Jordan Rhodes
Bolton boss Dougie Freedman claims to have no intention of lodging a big-money bid for Blackburn striker Jordan Rhodes.
Last Updated: 03/07/13 4:06pm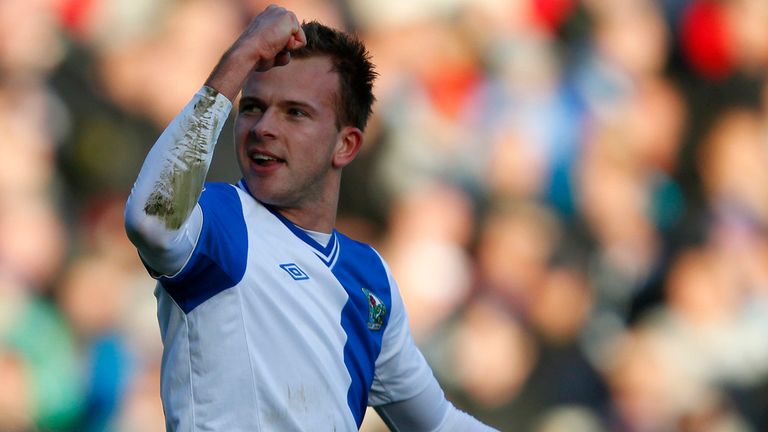 Reports over the weekend suggested that the Trotters were ready to table a £9million offer for the Scotland international.
It would take a fee such as that for Blackburn to consider parting with a man they spent £8million on last summer and who netted 27 league goals in his debut campaign at Ewood Park.
Freedman is fully aware of what it takes to get a player of Rhodes' calibre, but insists he would never risk the financial well-being of a club to go chasing unrealistic targets.
He said in the Bolton News: "I have been really fortunate and spent most of my career in the Championship, and I have seen lots of clubs who go and buy over-priced players and it backfires on them, they don't get what they want and put themselves in a bad financial position.
"Of course, if any player comes up at the right price at the right value, then I'll be knocking on the owner's door. But I don't get any kicks out of going and spending big money just to show fans I can do it."
Asked to separate the fact from the fiction in the Rhodes speculation, Freedman added: "Fact is very simple, he's a Blackburn Rovers player and I can't comment on him because it's disrespectful to them.
"Fiction is something we all dream of - he's a wonderful young player with a terrific goalscoring record. I think every manager in this division would like to have him in his team, or at least I'd like to think so.
"But that's the difference between actual facts, and fiction."
Comfortable
Meanwhile, Freedman has also been discussing the future of one of those already on his books, with speculation suggesting that Matt Mills is a summer transfer target for a number of clubs.
On the defender, he said: "There has been plenty written about Matt Mills but we have had nothing as we speak.
"I have spoken to him and he's very comfortable fighting for his position in the team. There is nothing concrete at the moment."