Former Blackburn manager Steve Kean is prepared to move abroad
Former Blackburn manager Steve Kean claims he is prepared to move abroad as he looks to step back into management.
Last Updated: 16/07/13 10:54am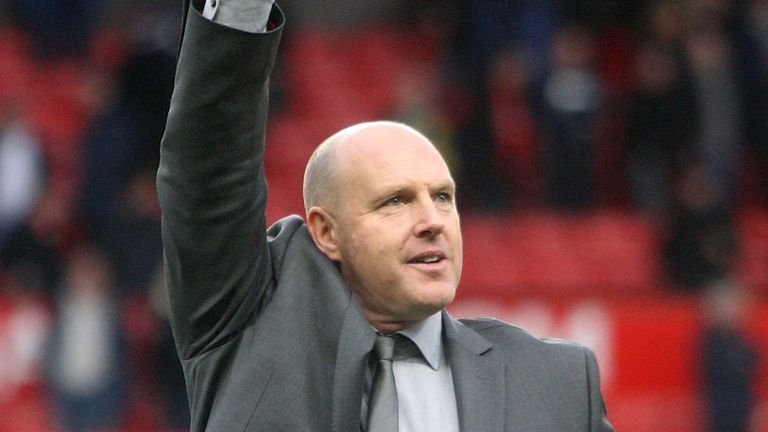 After beginning his playing career at Celtic, Kean spent a season at Alloa Athletic before moving to Portuguese side Académica Coimbra.
He believes his experience in Portugal has influenced his managerial style and admitted that returning to manage a side would be a tempting proposition.
"The football was different," he said. "It was very technical, there were two sessions a day and it was less direct, so it gives you a different aspect.
"There's a natural environment where you can be out for four hours a day coaching. There's a lot of contact time because of the nice weather. It's the same in Spain and most of the Mediterranean."
Kean has already coached in Spain after joining Real Sociedad as assistant manager to Chris Coleman, but things didn't quite go to plan in the Basque country for the Scotsman.
"It was for just under a year," he explained.
"The bit that most people don't see is the elections when a new president tries to win the votes of the fans.
"After about eight months in Spain, the club president was voted out and then in came a new president with a whole new board of directors.
"The situation changed because the new president hadn't hired us and there were a few things that were different from what we had first walked into so we decided to leave."
Kean, who began his coaching career at Reading before moving to Fulham, also shed light on his long-term association with Coleman, who is currently managing Wales.
"We were together at Fulham, Coventry, Sociedad and then I went to Blackburn with him," he explained.
"Chris is a very good friend of mine. We go back a long time.
"When I was a young player at Celtic in 1987, I went to Swansea on loan for a short time and Chris was one of the young apprentices.
"When I went to Fulham, 'Cookie' was the first guy I saw. He was the captain of the club at the time.
"We won the Championship, and then he was involved in a car crash.
"After that, he came to work in the academy with me and then Jean Tigana made him first-team coach just before Jean left.
"He then got the caretaker job and I assisted him. We were in a really bad position because we had five games left and we were near the bottom.
"We managed to get 10 points out of a possible 15, stayed up and the chairman gave him the job and I was with him a long time.
"He's a great guy, a top man."