Championship: Blackburn boss Gary Bowyer praises officials in 5-2 win over Barnsley
Gary Bowyer praised the officials in Blackburn's 5-2 win over Barnsley, whose boss David Flitcroft wasn't so pleased.
Last Updated: 25/08/13 11:42am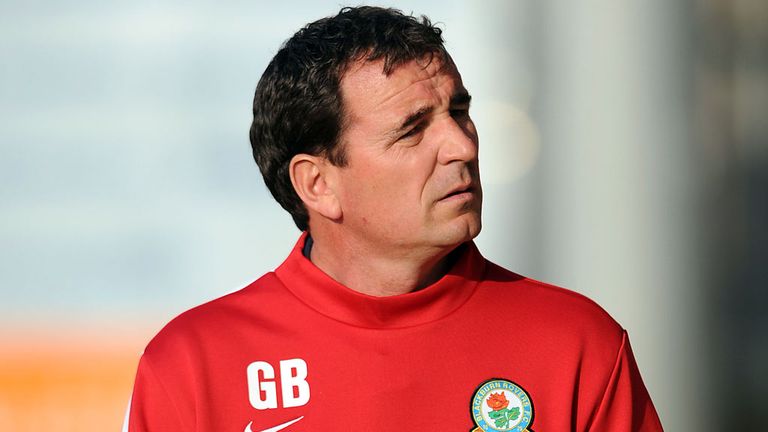 Chris Dagnall's turn and shot put Barnsley ahead but the game changed after 16 minutes when M'voto brought down Rhodes who was clean through on goal.
Tom Cairney dispatched the resulting free-kick and three further goals in 13 first-half minutes - two from Rhodes and one from Josh King - put the result beyond doubt.
Todd Kane grabbed his first for the club after 58 minutes before Tomasz Cywka grabbed a late consolation, but Bowyer was keen to stress that Rhodes would not go down unless necessary.
He said: "I think we started very well before the sending off and their goal is against the run of play but our lads responded magnificently. Jordan Rhodes is never going to go down when he's got an opportunity to score a goal. He's a greedy striker and he's clean through.
Bowyer also praised the 'ruthless' finishing of his team after four first-half goals set his side well on the way to their first win of the season.
"I stand by what I said prior to today's game," Bowyer said.
"Some of our performances have not got what they deserve in terms of points and today was our day. We're delighted with the quality of the goals we scored.
"The finishing was ruthless. You look at the quality of the goals we've scored and the general play and full praise has to go to the players."
Bowyer also reserved singled out Kane's performance after his first goal and two assists put the Tykes to the sword.
He said: "Todd is a player we had last season and his level of performance last year was very good. He's shown signs again today.
"He knows he has to keep working hard but his attitude and application today was first class as was the rest of the players."
Barnsley boss David Flitcroft revealed he had spoken to Rhodes after the game who admitted to backing into M'voto for the red card incident.
This latest defeat means Barnsley have picked up just one point from a possible 12 this season and it is their third successive loss to Blackburn, who did the double over them last season.
The wait for an away league win, last achieved in February, goes on, but Flitcroft felt the sending off was incorrect and changed the whole game.
"I got the opportunity to speak to Jordan Rhodes who I know really well and I've seen the incident," he said.
"I've not seen Jean-Yves M'voto having to stretch or panic. He's got the wrong side. Jordan didn't have the pace to get passed him or through him. What Jordan's told me is that he's backed into him and propelled himself forward, so he's got a very good decision for his team.
"That's cute, clever and why Jordan will become a Premier League player. He's incredible at this level and is one of the most honest kids I know. I looked him in the eyes and he had to tell me the truth and he did.
"Has the referee been conned? From what I know now, he has been. He's got to make a split decision, I understand that, but the decision is too big, just don't make it."
Flitcroft refused to let that be an excuse for 'atrocious' defending for four of the five goals his side conceded.
He said: "What I'm not going to do is hide behind the referee's decision. The first goal we conceded was a postage stamp finish but the four goals after that were atrocious but that's what I'll be concentrating on.
"We still had nine outfield players to defend against them and we didn't do it well enough."