Ewood excitement
Blackburn's Tom Cairney discusses late play-off pushes and building towards a bright future.
Last Updated: 17/04/14 5:11pm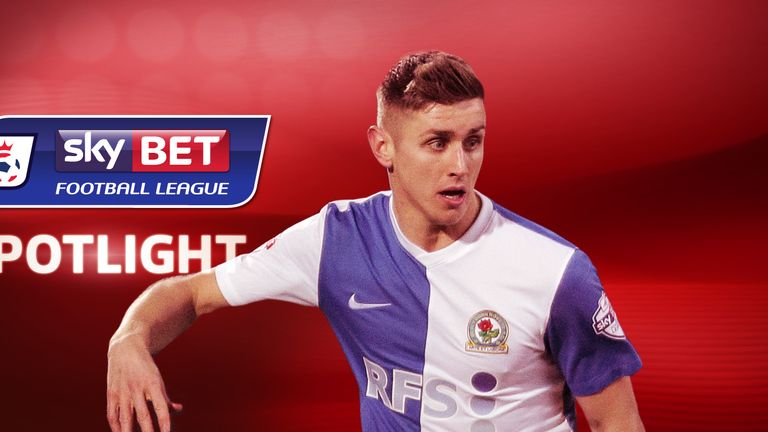 The 2013/14 campaign is now entering the final straight, with divisions beginning to take shape.
Here at Sky Sports, we will look to take you to the very heart of the Sky Bet Football League over the coming months, with our Spotlight features intended to give you a greater insight into the clubs and players that keep us on the edge of our seats.
We hope to bring you the views and thoughts of a representative from each of the 72 teams over the course of the season, with those involved asked to give their take on the division they compete in, the club that pays their wages and those we should all be keeping an eye on.
Blackburn's Tom Cairney is next into the hot-seat, with the Rovers midfielder taking time out to discuss late play-off pushes and building towards a bright future with Chris Burton.
In the position your find yourselves at the moment, does it feel as though - while you would obviously like to be inside the top six - you're in a good place because there is more pressure on those above you and it can sometimes be easier to chase?
I think so - especially where we have come from last season, being in a bit of a relegation battle. There are a lot of new players, so it definitely feels positive. There is more pressure on the teams above us and we are looking to sneak in there, if we can, right at the end.
With four games left, are you thinking you might have to win them all?
I think so, realistically. Obviously we are relying on other teams to slip up a bit and, realistically for ourselves, I think we will have to win all four to have any chance of sneaking into sixth. It's possible, but at the same time it will be tough.
It's going to be tight isn't it because while you have found a bit of form, so have Ipswich, Bournemouth, and even Middlesbrough just below you?
I know. We haven't played well for the whole season and have maybe slipped up on a few points that we shouldn't have done. I suppose that's because it's a new squad and is fairly young. Bournemouth have been on a good run lately, so have Ipswich, but we feel as though we're as good as them, if not better, so we're a little bit disappointed not to be in there. We'll see at the end of the season where we'll be.
No points are won on paper, but the next three fixtures look favourable don't they and then a derby date with Wigan on the last day could be massive?
Yeah. The next three on paper look like you could win them, but they are all fighting for their lives at the same time. We know from last season how hard it can be when you're fighting for your lives down there, so it could be the hardest game of the season tomorrow against Yeovil. But we're still looking to win it because we're at home and have still got that chance of getting into the play-offs.
You've got to be delighted with the amount of goals you're scoring at the moment, you just need to tighten up a bit at the back don't you?
With the front two that we have got, and with the attacking players that we have got, I think we will always create chances and score goals in the games. We just need to tighten up a bit, and as soon as we do that, I think we'll win a lot of games.
Saturday was an ideal example of that wasn't it (letting a 3-1 lead slip late on at Sheffield Wednesday), and the type of result you need to get out of your system as quickly as possible?
It was very, very disappointing. We could have won three in a row for the first time since 2008, or something like that. It was a massive downer to concede in the last minute, but we just need to get that out of our system tomorrow.
You've mentioned the front two, and you've got Jordan firing again haven't you - the hat-trick at Huddersfield got him back on track?
He didn't score for a few games, which was a drought for him. Any other player that isn't a drought, but it is for Jordan Rhodes. He will always score goals and has got over 50 in less than two seasons. You can't really moan too much about that. He is just a born goalscorer and I think he'll always be like that.
From the outside, it looks like the club have added really well this season - the loanees and permanent signings in January have all helped to add something different haven't they?
Yeah. I think the management staff have done well in building the squad they have. Obviously I signed in January with a few more. I think it's looking good and the future is exciting.
You've got the balance right now haven't you - you've got the experience and youth, then the creativity and the lads who are prepared to put their foot in? You've got the right blend.
We have got that blend. We have still got the old guns - like Dunny and Robbo - and they add the experience. But we have definitely got a lot of energy in the side with the youth that we have got and it's exciting. I feel like Blackburn are turning the corner at the minute and it's good to be a part of.
It's important you keep that squad intact now isn't it - you only have to look at what Leicester have achieved to see how successful you can be with a stable side?
Yeah, we want to keep hold of everyone for as long as we can. Obviously it took Leicester quite a few years to do, and now they've flown through this year. That's what we've got to try and build. They have set the benchmark and we have to try and do what they did.
You've got that stability with the manager now - something the club hasn't had for a while. Gary Bowyer has been in charge for over a year now and that's important isn't it?
I think so. I think everyone knows how insecure football can be sometimes, but the gaffer has been here for quite a while and hopefully that remains the case. He's building a strong squad and hopefully he can help to take us back to the Premier League.
On a personal level, are you happy with how the season has gone?
Yeah, it's been brilliant on a personal level. I've had a good season, played a lot of games, but I still feel as though there is more to come. I've played in a lot of positions lately - like out wide and in the centre. I definitely feel as though there is more to come, but I'm also happy with the season I've had.
Are you convinced that you made the right choice in joining Blackburn permanently - no looking back at Hull and thinking what could have been?
No. I think I made the right choice, especially football-wise. I came into this season wanting to play a lot of football, and that's what I'm doing at the minute.