John Terry, Mohamed Salah, Antonio Rudiger: The quirkiest transfer unveilings this summer
Last Updated: 09/07/17 5:28pm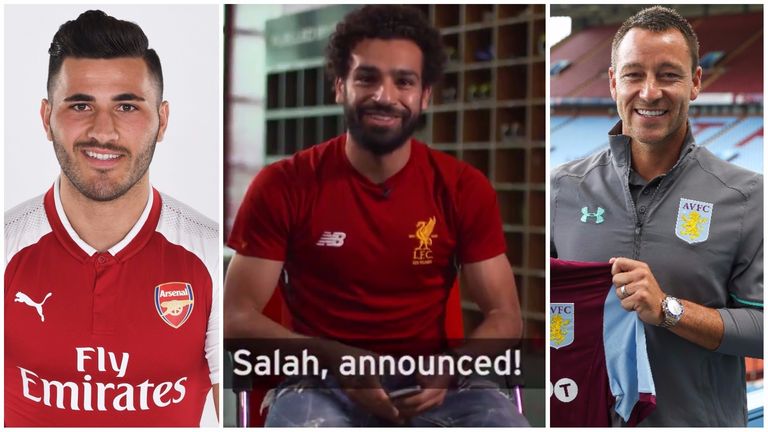 Are the days of just 'announcing' a new signing by name coming to end? If this summer's window is anything to go by then they might well be.
Several clubs appear to have put much more thought and creativity into breaking transfer news, from imaginative teaser tweets to quirky methods of actually revealing the player.
Perhaps the most memorable unveiling of the summer might be Aston Villa's WhatsApp conversation that led to John Terry's signing, with club owner Tony Xia involved in an imaginary chat with manager Steve Bruce and an assortment of players.
The conversation featured legendary Villa players Martin Laursen, Olof Mellberg and Paul McGrath leaving the chat after Gabby Agbonlahor said Terry is now the best defender at the club.
Stoke teased their signing of Josh Tymon with a tweet reading 'SIGN SOMEONE STOKE', followed by a video of the tweet being typed into Twitter by the defender himself.
Arsenal posed a so-called quiz to announce the arrival of Sead Kolasinac from Schalke.
The tweet was a list of 10 players Arsene Wenger has signed for the club, with the first letter of each of their names spelling out 'Kolasinac'.
For the signing of Alexandre Lacazette, Arsenal went for some mystery, tweeting 'you'll never guess who...' along with a video of a player, with his face hidden, putting on the kit and being photographed.
Roma unveiled the signing of Lorenzo Pellegrini by posting a video of someone playing the videogame FIFA and celebrating scoring a goal for the Giallorossi.
Not only does the virtual player turn out to be Pellegrini, but the player holding the controller is also the midfielder.
Liverpool did something similar as they showed a thumb scrolling through tweets urging them to announce the signings of Mohamed Salah. Guess whose thumb it was…?
Crystal Palace even teased the arrival of their new manager Frank De Boer in a creative post that showed white smoke rising from the chimney of a Caribbean restaurant, in the style of an announcement of a new Pope at the Vatican.
And Chelsea joined the party with the announcement of Antonio Rudiger's arrival from Roma.
A young fan made his way to the club shop at Stamford Bridge to get his shirt printed with the name of his favourite player.
The youngster asked for Rudiger's name but his dad reminded him he could not get the shirt printed with the name of a player that did not play for the club yet. However, the Germany international was on hand to give the thumbs up to his name going on the back of the shirt, saying in the video he was now a Chelsea player.
With plenty more signings expected this summer, can we expect plenty more quirky announcements?