Lewis Kinsella interview: Ex-Aston Villa youngster ready for reunion
By Adam Bate
Last Updated: 09/08/17 9:57am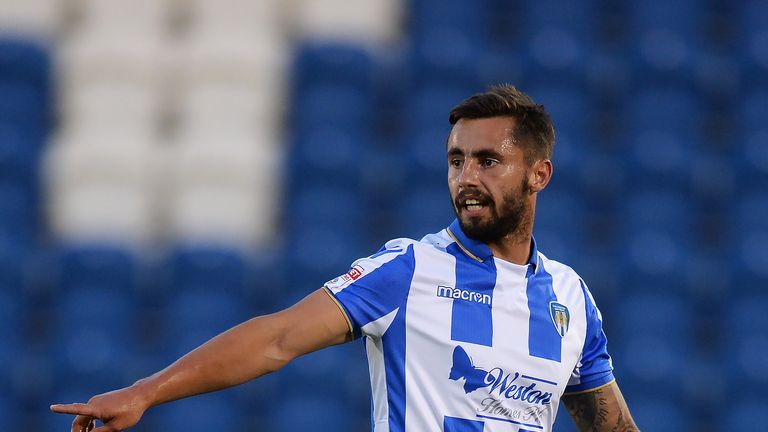 Lewis Kinsella was a part-time plumber after being released by Aston Villa. Now he is set to face them in the Carabao Cup with Colchester United. Adam Bate caught up with him to find out why his team-mates have been giving him stick ahead of Wednesday's tie…
It began with a tweet from Colchester United's official Twitter account. The thrust of it was that young left-back Lewis Kinsella would be giddy at the news that the club had drawn Aston Villa in the Carabao Cup. Villa was his team from the age of 16 to 21 and evidently, this is no secret at Colchester. "I am getting it from all angles," Kinsella tells Sky Sports.
"I have been getting a lot of stick from the boys about it because apparently all I talk about is the Villa. They keep winding me up telling me to let it go. We will be driving up the M6 to a game and go past Villa Park. Someone will always catch me looking and I get battered with abuse. I think the boys are looking forward to battering me more than anything else."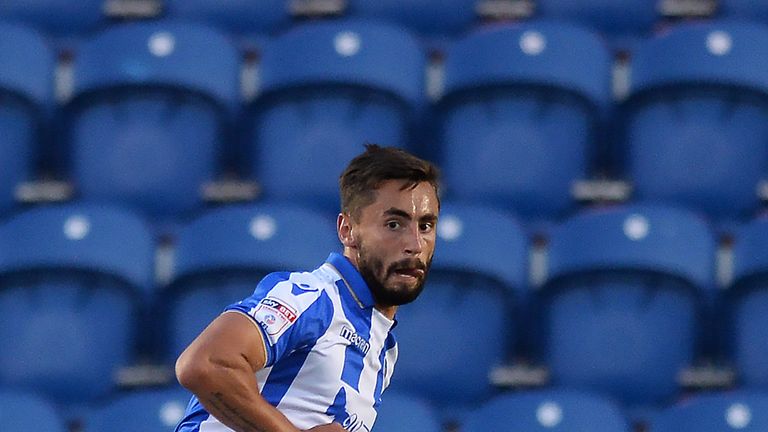 Now 22, Kinsella is a confident and outgoing character but one under no illusions about his big reunion. "I didn't even play there really," he is quick to add. "I was there for five years through the youth team and the reserves but I didn't actually play for the first team. So although it is a big game for me I don't think any of the fans will remember me."
Even so, he got far closer than most. An unused substitute for Villa twice in the Premier League, Kinsella has considerable pedigree having previously spent eight years in the Arsenal academy. "We used to go on trips to play against Real Madrid and Barcelona," he recalls. "You were up against the best kids in the world. So it was a great upbringing."
Current Arsenal star Alex Iwobi was in the year below Kinsella, but tellingly he is the only one from his own age group still playing professionally. Even Kinsella's prospects appeared precarious during the summer of 2016 when he found himself let go by Villa just as he had been by the Gunners. So much so, in fact, that he briefly turned to his back-up option.
My uncle is a plumber. He used to get me doing the showers and all sorts. It just made me want to be a footballer even more.
Lewis Kinsella
"My uncle is a plumber," he explains. "I didn't have a club and I was trialling a lot so I started working with him part-time just to tick me over. I did it as a kid too and it kept me grounded because I hated it. My uncle was horrible to me, to be fair. He used to get me doing the showers and all sorts. It just made me want to be a footballer even more.
"I always knew I would be good enough to get a club though. After the upbringing I'd had at Arsenal and Villa I'd be doing something wrong if I couldn't." And yet, spells at Swindon and Luton, where he'd once been on loan, came to nothing. As did trials with Shrewsbury and Northampton. It was not until he pitched up at Colchester that Kinsella got his chance.
"I played in a game against Ipswich and did alright so they asked me to play in a second one against Crystal Palace," he says. "I was up against Andros Townsend. That was interesting! Fortunately for me, he didn't really get the ball so I looked good. After that game they said they wanted to keep me. Colchester gave me my chance but then the injury killed me."
That injury was a ruptured ankle ligament which put Kinsella out of action for almost five months of last season. "I was playing every week but that put me back to third choice," he adds. "The manager changed the formation and Brennan Dickenson, who came in for me, ended up flying and scoring a lot of goals from wing-back. It was always going to be hard."
Nevertheless, Kinsella has been rewarded with a one-year contract extension and another chance to impress. He is acutely aware that for someone who turns 23 next month, he has simply not played enough senior football. "Lots of people my age have played far more so I'm playing catch up," he admits. "I just want to play a whole season. That's my objective."
He played the second half of Colchester's 3-1 defeat at Accrington Stanley on Saturday, a disappointing start given the club's ambitions. "Our aim is promotion because Colchester is a big club and should not be in League Two," says Kinsella. "We're capable of making League One and holding our own. But it's consistency that counts and we need to get back on it."
Against Villa on Wednesday night in front of a big crowd - and the Sky Sports cameras - at the Weston Homes Community Stadium would be a good place to start. "I definitely think we can do it," adds Kinsella. "Villa were knocked out by Luton in the first round last year so that shows that it can happen and that anything is possible on the night.
"It's good for Colchester to have a big club here and I know Villa will bring lots of fans because they always do. It will make for a great atmosphere, a big game and an especially big game for me. I am really looking forward to it and while I loved every minute at Villa, I'm a Colchester man now. I just hope I'm involved."