Bannan issues apology
Aston Villa midfielder Barry Bannan has apologised to his family, club and supporters for drink-driving.
Last Updated: 25/11/11 6:45pm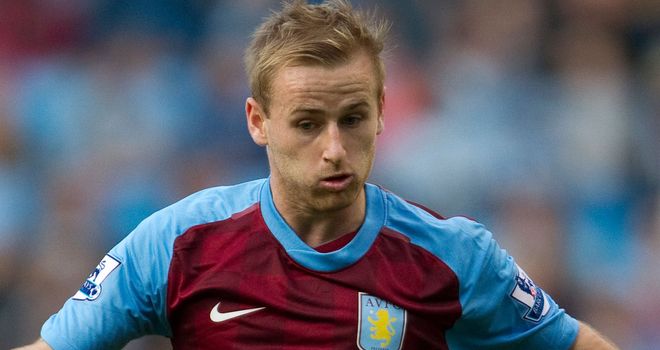 Aston Villa midfielder Barry Bannan has apologised to his family, club and supporters and said that he deeply regrets his actions after admitting to drink-driving on Friday.
The 21-year-old was handed an 18-month driving ban and fined £4,500 after admitting a string of driving offences following a crash on the M1 last month.
He admitted drink-driving, failing to stop after an accident, driving without due care and attention and driving on a provisional licence at Nottingham Magistrates' Court.
The court heard Bannan fled across fields after crashing his Range Rover Sport into the central reservation on the southbound carriageway of the M1 near Watnall, at around 5.30am on 23rd October following a night out in Leeds. He was found to have almost twice the legal limit of alcohol in his system.
Deeply regret
In a statement released by Aston Villa after Friday's hearing, Scottish international Bannan said: "I am very conscious of the fact that I have let down a lot of people by my actions, which I deeply regret.
"I have let down my family, my club, the supporters of Aston Villa, all of the people who have helped me to get to this stage in my football career and I have let down myself. I'm really sorry.
"Obviously, I have to try to make up for a terrible error of judgement and I intend to do so, first by accepting the fine and punishment handed down by the court and subsequently by my actions.
"Drink-driving is a very serious offence and there is no excuse for what I have done.
"The club has been very supportive throughout this process and I want to concentrate now on my responsibilities to Villa and work hard to get back in the team."
Dim view
Villa manager Alex McLeish said: "As a club and as the manager of the club, we take a very dim view of the incident in which Barry was involved.
"He has been deservedly punished and we have also taken action internally, at the time of the incident when he was suspended and he will now be disciplined in line with the club's own disciplinary procedure, which will remain internal.
"Barry has shown contrition, he's very ashamed of what's happened and his attitude is very much to get on now with his life and his career as a footballer."