Messages flood in for Petrov
Stiliyan Petrov has received messages of support after it was announced by Aston Villa that he has been diagnosed with acute leukaemia.
Last Updated: 30/03/12 4:49pm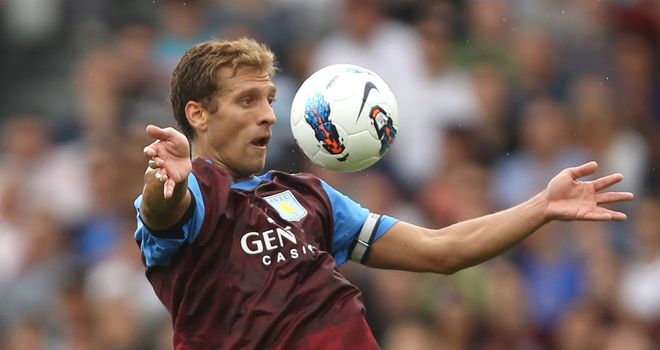 Aston Villa captain Stiliyan Petrov has received messages of support after it was announced by the club that he has been diagnosed with acute leukaemia.
Villa issued a statement on Friday afternoon to say that Petrov had undergone tests after developing a fever following last Saturday's defeat against Arsenal.
The footballing world has been quick to react to the news and offer their thoughts to the 32-year-old Bulgaria international and his family.
Aston Villa striker Darren Bent tweeted: "Really sad news to hear about our captain Stan Petrov. Hopefully he'll be back fighting fit soon. Thoughts are with him and his family."
Goalkeeper Shay Given added on Twitter: "In shock about Stiliyan Petrov acute leukaemia but we are all here for him and his family. Please God he makes a full recovery.#prayforstan."
Tottenham midfielder Jermaine Jenas, a former team-mate of Petrov's at Villa, said: "Just saw the news about Stan Petrov one of the nicest guys in football! Thoughts with him and his lovely family."
PFA chairman Gordon Taylor promised all the help the players' union can provide to Petrov and has written to the Villa skipper to offer his support.
Taylor said: "It's a terrible shock, especially so soon after what has happened to Fabrice [Muamba]. All our thoughts and hopes with him.
"Stiliyan is a great character, a good leader, and we will give him all the help and support we can.
"Whenever I have met him I have been most impressed by him, he is a great gentleman, we are proud to have him as a PFA member and I just hope that, like Fabrice, he can come through it."
Svetoslav Todorov, a former team-mate of Petrov's at international level, admitted the news had come as a shock to everyone back in his homeland.
"He is a great player and it is a really, really sad day for Bulgaria," Todorov told Sky Sports News.
"I am sure he will come through. He is a fighter and I hope that he can get better and get back on the football pitch. I wish this with all of my heart."
Fantastic doctors
Former England midfielder Geoff Thomas was diagnosed with chronic myeloid leukaemia in 2003, but has since recovered and established The Geoff Thomas Foundation to raise funds for a network of national centres to allow patients to benefit from the latest advances in diagnosis and treatment.
And Thomas believes Petrov will receive excellent care, saying: "You are shocked with any news like this, but with somebody so young and so fit I think it always becomes more shocking.
"My thoughts go to him and his family. I know exactly where he will be at the moment, it's something totally out of the blue.
"It's a case of taking all the information over the next couple of days and then deciphering everything and then getting on with putting your life in the professionals' hands.
"Here in Birmingham we've got tremendous skills in haematology and the doctors are fantastic people so I'm sure he'll be in good, safe hands.
"I'm confident that the guys will look after him and hopefully as soon as possible get him back on the football pitch."