No Young issues for McLeish
Alex McLeish has told his Aston Villa players not to be afraid of their former star Ashley Young.
Last Updated: 14/04/12 1:22pm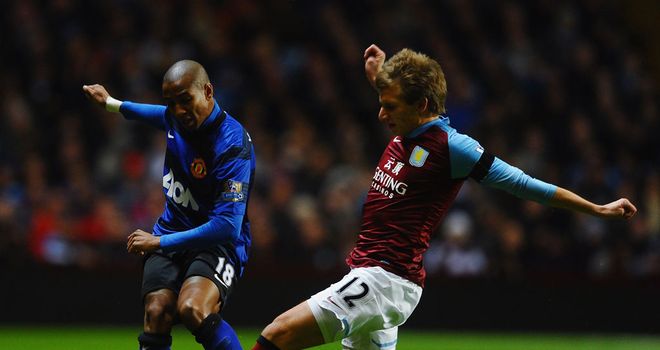 Alex McLeish has told his Aston Villa players not to be afraid of their former star Ashley Young.
Former Villa forward Young was at the centre of a controversy last weekend, when he earned a penalty against QPR which helped his side to a 2-0 victory and saw Rangers captain Shaun Derry sent off.
Derry appeared to make minimal contact at Old Trafford but referee Lee Mason pointed to the spot and Wayne Rooney converted the 15th-minute penalty.
Mason's call is one of a number of disputable refereeing decisions recently and McLeish has also had reason to be annoyed of late, blaming a foul in the build-up for Stoke's goal in their 1-1 draw on Monday.
But the Villa chief remains philosophical about such turning points.
"These are the things that you can't legislate for on a Saturday," he said.
"You can't prepare the team for that.
"We've often said in team talks 'look, we're looking for you to be at your best performance level, to work your socks off for the team from start to finish', but sometimes even if you do that it can be out of your hands and you can lose a goal to a decision you think you've been wronged by.
"Referees are going to make mistakes but last week was a tough weekend for them."
Mindful
Asked whether he would be especially mindful about Young, McLeish said: "We know that over the years players are clever and there have probably been a few disputed penalties since time began.
"But I don't really think there are a lot of divers in the British game. I know when I was in the Scotland job the SFA were really anxious to stamp that sort of thing out but it's so difficult for refs.
"It's a split-second decision when there is a little bit of closeness between players. Even sometimes when a player is going at full rate, the slightest touch can be enough to make him go down.
"Sometimes you make a decision that is wrong even from that point of view. But I don't envy referees at all. They have got a horrendously difficult job, in my eyes."
The beleaguered Villa chief, whose side sit just six points off the Premier League's bottom three, wants his players to be careful but not over-cautious when defending against the reigning champions.
"We'll try and stay on our feet against United's players at the weekend," he said.
"Sometimes it's not as simple as that. You guide them and coach them to try to do that but at the same time you have to make sliding tackles and fair tackles when it matters.
"Maybe at the other end I'll be looking for more action from our lads."