Given eyes job done
Shay Given has urged Aston Villa to 'do the business' and beat Bolton to take a massive step to Premier League safety.
Last Updated: 23/04/12 10:55am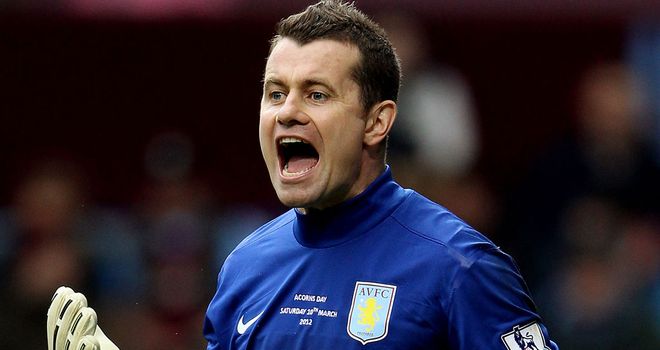 Shay Given has urged his Aston Villa team-mates to 'do the business' and beat Bolton to take a massive step to Premier League safety.
Villa have won only four home games this season and sit five points above the drop zone after Saturday's goalless draw with Sunderland - their 15th stalemate of the campaign.
Alex McLeish's side have not won for six games and Given is targeting victory against the Trotters on Tuesday to push clear of trouble.
He said: "It has been frustrating the whole season. We haven't had enough victories at home.
"We don't want to stumble the wrong side of the line because we know we are not safe yet.
"We are five points clear but Wigan have shown any results can happen at the bottom.
Can't rely
"The thing for Aston Villa is we can't rely on other people. We have to do the job ourselves.
"Ideally we want to win against Bolton but it is easy enough saying we want to win. We have to go out on the pitch and do the business."
Given, who made the £5million move from Manchester City last summer, believes Villa have under-achieved.
He added: "We don't want to be where we are at. But we are where we are and there is no getting away from that.
"The table never lies and we are where we are because we deserve to be there.
"We don't deserve to be any higher as we haven't picked the points up.
Under-achieved
"I don't think it was always going to be a difficult season. I think we have under-achieved as a club and as a team.
"We've had injuries and the young lads are coming in with big pressure on their shoulders and it is tough on them as well."
Villa have sold several key players in recent seasons including Gareth Barry, James Milner, Ashley Young and Stewart Downing for a combined figure of around £70million.
Given added: "The most important thing is we get up to safety and then we can hopefully strengthen in the summer and bring in a few more experienced players.
"I think we are lacking that. We don't have enough players at the moment with experience.
"We have a lot of young players in the team and squad but hopefully we can strengthen in the summer."