Bannan: McLeish not to blame
Aston Villa's Barry Bannan feels that Aston Villa's players, and not under-fire manager Alex McLeish, are to blame for their recent troubles.
Last Updated: 26/04/12 9:55am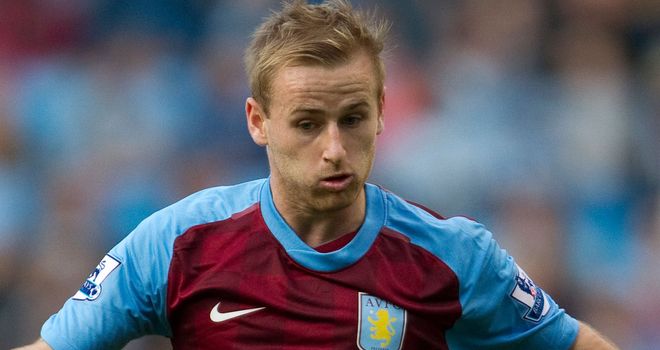 Aston Villa's Barry Bannan feels that Aston Villa's players, and not under-fire manager Alex McLeish, are to blame for their recent troubles.
After Tuesday night's crushing 2-1 home loss in the crucial clash against relegation rivals Bolton, midfielder Bannan has leapt to the defence of McLeish.
Bannan told Sky Sports News Radio: "It was a home game last night with our own fans behind us.
"We felt that we were more than good enough to win it but we just didn't do it. We've got a couple of tough games coming up now, so we have to pull together."
Struggling Villa's critics have pinpointed the lack of leadership at the club as a huge factor in their demise. Bannan claims that Villa's performances have more than warranted results though, but cites poor finishing as the problem.
"I wouldn't say it's a lack of leadership personally. On Saturday against Sunderland we were the better team, but we just didn't take advantage of it.
"Last night we had enough chances in the first half to win two games but we just couldn't get the ball in the net. I don't think it's about leadership really because we're performing pretty well, but we just can't seem to score."
Bannan's comments come after the disappointing 2-1 loss against Bolton which left the Villa Park outfit just three points above the Premier League trap door with three games to play. But midfielder Bannan didn't envisage any such struggles at the club at the start of the season.
"At the start of the season, when you look at the squad and the club's history you wouldn't think we'd be anywhere near it, but it's a position we find ourselves in now.
"It's important for us to pull together, work hard in training and take each game at a time now. Hopefully we can start getting closer to safety."
Villa manager Alex McLeish cuts an unpopular figure in Birmingham, with the Villa Park faithful laying the blame for the club's current predicament squarely at his feet. Bannan however, feels that the players are more culpable than his fellow Scot for their performances.
"Obviously you can accept the fan's frustrations because we aren't winning games and they're spending good money to come and watch us. We're all in this together though, so it's unfair to just blame the manager as the players are just as much at fault. It's harsh how the manager is getting treated because as a team we should all take the criticism."
McLeish's managerial past has often been called into question, with some feeling that his history at arch-rivals Birmingham City is held against him.
Concerned
Bannan is more concerned with Saturday's crucial Midlands derby against West Brom however, as he hopes to pull away from the relegation mire.
"I'm not too sure if it's a Birmingham thing or not, as it's always hard to say what the fans are thinking. He's come in for a lot of stick though, so hopefully we can put that right as a team on Saturday against West Brom and get the three points for him."
Scottish international Bannan has been one of few shining lights for Villa this season, with some promising performances in the centre of midfield earning him a place on an 80-man shortlist for Great Britain's men's team for the 2012 Olympics.
The draw on Tuesday pitted the home team against Senegal, Uruguay and the unknown quantity UAE, and whilst Bannan is delighted to be on the shortlist for the squad, he feels that the draw has handed Great Britain a huge test
"It does feel good, obviously. There's still going to be a big cut off but it's a great honour for me to be recognised on the shortlist. I'm looking forward to it.
"Any team that's going there is going to be tough for Team GB. You'll have Uruguay taking players like (Diego) Forlan and (Luis) Suarez so there will be tough games. However, with the pick of the players that Team GB has, we'll be in with a chance of winning it.
"I'm definitely keen to play a part in it. Obviously there are some Scottish people that aren't happy about it, but I can't really see the problem. After it's finished I'm always going to be a Scotland player, it's not as if I'm changing."
The controversy surrounding Team GB has stemmed from some of the home countries' reluctancy to send players due to potential future repercussions, such as the loss of national identity and independence. Bannan however sees no problem.
"I've not spoken to anyone from the Scottish Football Association about taking part yet, but we've got a trip to America at the end of May for a game against the USA. I doubt that anyone will stand in the way of the young Scottish players going.
"(David) Beckham is obviously one of the favourites to go and could even be captain, and it would be strange to play with players of his calibre. For me it would be unbelievable."