Ireland promises improvement
Aston Villa supporters' player of the season Stephen Ireland has vowed to show his true form next season.
Last Updated: 06/05/12 11:46am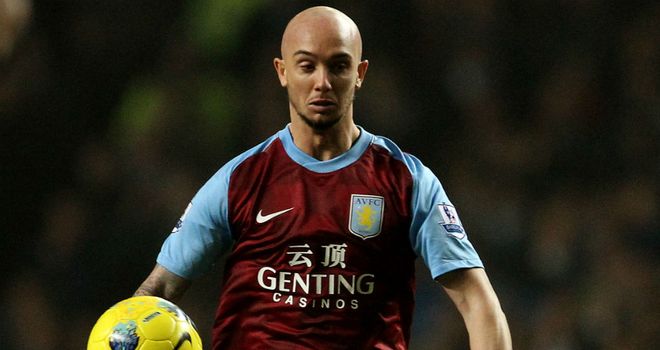 Aston Villa supporters' player of the season Stephen Ireland has vowed to show his true form next season.
The midfielder, who won the award despite making just 22 appearances in all competitions this campaign, is hopeful the club can accumulate enough points from their remaining games to secure Premier League survival.
Ireland has taken time to get back to his best in the West Midlands after joining from Manchester City in 2010, despite being played out of position.
But now the 25-year-old seems to have turned his fortunes around, although he is not sure that he would have voted for himself.
No complaints
He said: "My aim once I got in the side was to have more assists and more goals but that changed with every game because I was playing somewhere different.
"I did well when we won at Chelsea playing off the front man in my favourite position, and I thought I would kick on.
"But since then I've been left wing, right wing and when Robbie Keane came in, I was in another position again.
"I had no complaints because you take it as it comes and do what the manager wants, but I have had to be more disciplined and couldn't get near the edge of the box for a shot.
"So with that I'm so grateful the fans selected me. I didn't build up much of a relationship with them last season and I had that in my mind at the start of this one. I wanted to do better.
"Next year I'd absolutely expect even more of myself. I feel relaxed and feel I am getting back to my best. I just want it to continue."
Stability
Ireland insists the club need a summer of stability now after Martin O'Neill walked out and then Gerard Houllier fell ill. And despite rumours still swirling around the future of boss Alex McLeish, he feels the Scot can lead Villa forward.
"We have underachieved this season - everybody knows we shouldn't be near the bottom of the table," admitted Ireland.
"But I do believe that as a club we can kick on this summer. It is going to be interesting to see who the manager brings in and who goes because I am sure there will be changes.
"We do need a period of stability. It hasn't helped anybody that things changed in the last two summers and it will be good if we can get the chance to work together and get things to gel."