McLeish looks to move forward
Alex McLeish is refusing to entertain talk of him leaving Aston Villa and is instead defiantly planning for next season.
Last Updated: 11/05/12 5:09pm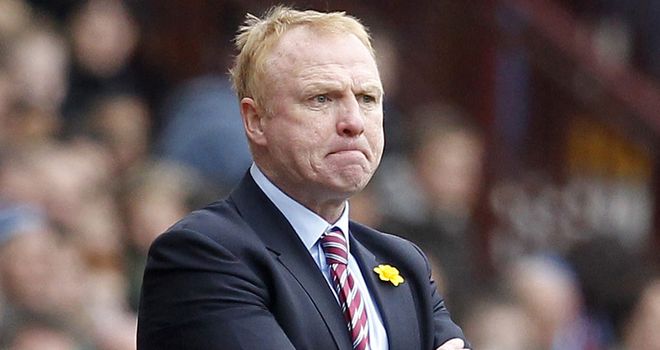 Alex McLeish is refusing to entertain talk of him leaving Aston Villa and is instead defiantly planning for next season.
Some Villa fans did not want the former Birmingham boss at the club in the first place and calls for his removal have only increased during a disappointing campaign.
After Villa effectively secured their top-flight status last weekend, McLeish is looking to move the club forward and refused to entertain talk of him leaving ahead of Sunday's final match of the season at Norwich.
"I have not given that any thought at all," he said. "I think we have worked well together as board and manager and staff. We have had a difficult season but it was anticipated. We did say about it being transitional.
"Now hopefully we can move forward with some good signings and a little bit of change."
Asked whether the campaign has failed as a project, he said: "After one season? Did you expect me to win the league? Come on!
"When you look at the problems we have had, the amount of kids, we had a reserve team playing at Old Trafford last night and they could have qualified for my first team in the last few weeks.
"You have to be a little bit more understanding than that question you just asked."
Being here
Pressed on his future, the former Scotland boss said: "I anticipate still being here next season, yes.
"It's not something I have even thought about. You are speculating, it's all hypothetical."
He added: "We have underachieved in terms of past history, no doubt about that, in terms of name Aston Villa.
"But losing four or five players at crucial moments of the season...we have missed Darren Bent for 19 games now. I would have expected four or five goals in those games at least which would have made things more comfortable."
McLeish is already looking ahead to next season and believes he will sit down to make plans with chief executive Paul Faulkner when Sunday's game is out of the way.
"I expect us to sit down and talk next week," he said.
"I have emailed Paul, he's away on business just now and I have asked when we can sit down next week. He says he is back and available from Monday all next week."
However upbeat McLeish tries to remain, he admits this has not been his most rewarding season as a manager.
"I couldn't say it was enjoyable," he said. "It's been a huge challenge. You really enjoy it when your team is winning regularly. We didn't do that enough.
"It's still a fantastic challenge. I knew if I was out of football for five minutes I would be wanting to be back in again. It's in the blood."