Aston Villa captain Ron Vlaar has called on his side to bounce back from defeat at Southampton
Ron Vlaar has challenged Aston Villa to stage an immediate response after a disappointing display against Southampton.
Last Updated: 24/09/12 3:31pm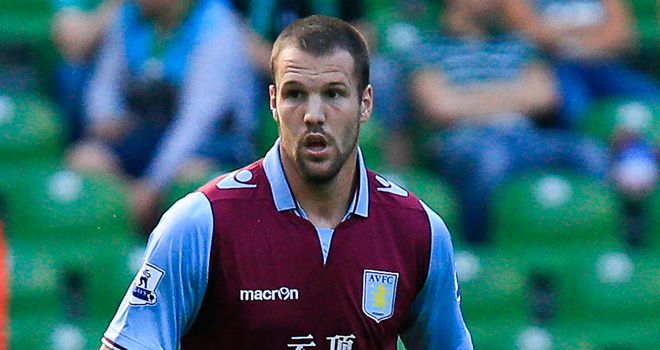 Villa took the early lead through Darren Bent at St Mary's on Saturday but went on to collapse in a 4-1 defeat.
The Midlanders now face a daunting task away to reigning Premier League champions Manchester City in the Capital One Cup on Tuesday as they bid to recover from the weekend result.
Vlaar, a summer arrival who replaced Bent as skipper this season under new boss Paul Lambert, insists Villa must bounce back at the Etihad Stadium.
"We have to stay strong now and we have another game Tuesday which we need to prepare for," he told the Birmingham Mail.
"Of course, it is going to be a difficult game, but every game is difficult. We will go and try to win the game.
"Everybody wants to do better and I hope we can show this in the way we play against Manchester City."
Vlaar admits Villa "couldn't get going" as the Saints took control on Saturday and felt their team work was lacking in the second half.
Disappointing
He said: "We can play well as a team, we know this, but we didn't do it in the second half against Southampton and that's disappointing for everybody - the players, the manager and the coaching staff and, of course, our fans.
"That's just not good because we played well in our previous two games and this gave us confidence.
"We played fine earlier in the game.
"It was almost like we couldn't get going again.
"If you looked at the first half and then just after half-time when we created two good chances to score a second goal, right after half-time, we were doing well.
"We scored a goal, we looked quite comfortable in the game and, as I said, we might have gone 2-0 up had we been able to take those chances early in the second half.
"Then very quickly and out of nothing, they scored an equalising goal and close to this they scored a second goal and then a third goal and that deflated us. We didn't play well enough after this to get back into the game."