Paul Lambert hopes Gabriel Agbonlahor can replicate the display that saw Aston Villa defeat Manchester City
Paul Lambert hopes Gabriel Agbonlahor can replicate the display that saw Aston Villa defeat Manchester City in midweek.
Last Updated: 30/09/12 4:06pm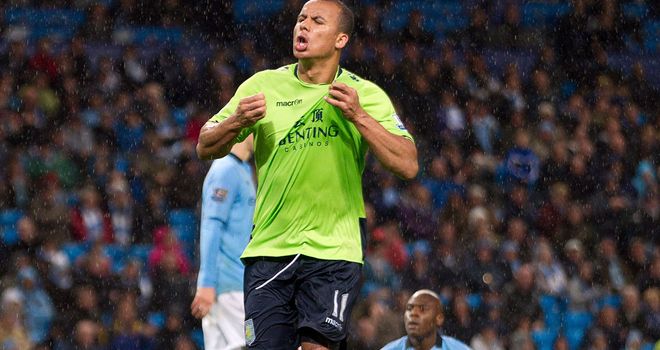 Agbonlahor ended an eight-month goal drought by netting a brace at the Etihad Stadium, a performance which put him in contention for the visit of West Brom on Sunday.
And Lambert is confident the 25-year-old can impress on a continual basis to challenge the likes of Christian Benteke, Andreas Weimann and Darren Bent.
"Every time I pick a side it is hard but Gabby's performance the other night was exceptional," said Lambert.
"His two goals were fantastic and, if you get Gabby firing on all cylinders, then he is a handful.
"Consistency comes from within himself. He is at an age now where he has got to get consistency in his game as well.
"He is not a young 19-year-old anymore. He has been here for a right few years. But when he is on song like that, there are not many people who can stop him because his speed is incredible.
"He is a strong, strong lad, is a likeable guy, and at this moment in time, he is playing really well."
Lambert knows how much beating Albion will mean to Villa fans especially after finishing below them in the Premier League last season.
But he has stressed the need for his players to keep their cool after defender Chris Herd was sent off in the corresponding fixture last season.
Kick people
He said: "The fans won't have liked that (finishing below West Brom) because they are their rivals. I know what derby matches mean to the fans.
"I've played in and seen enough derbies to know you've got to try and win them. I know they will come and back us after the other night.
"You can sense the fans are up for it. At the last home game against Swansea they were absolutely bouncing. This will be better, this will be something I'm looking forward to seeing.
"But you have a better chance of winning with 11 players on the pitch. I'm not an advocate of going to kick people.
"You try and play as strongly and fairly as you can but not over the top or anything like that."
Lambert was a team-mate of Baggies head coach Steve Clarke at St. Mirren and is not surprised by his success in the game.
He said: "I made my debut at St Mirren and Steve played behind me at right-back. He is a really top guy. I got a really good upbringing from lads like Steve and the other lads who were there. They put me on a good road to having an okay career.
"I'm not surprised by his success in management. He's his own man, had a great spell with Jose Mourinho at Chelsea as well, and he will know the game inside out."