Aston Villa manager Paul Lambert salutes Sunderland boss Martin O'Neill
Aston Villa boss Paul Lambert has saluted Martin O'Neill and regards him as one of the best in the business.
Last Updated: 03/11/12 2:15pm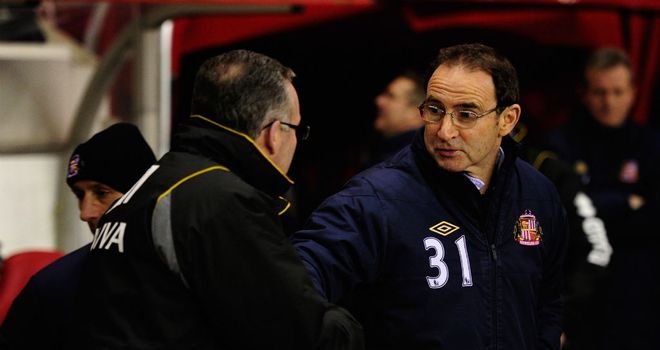 Lambert will be on the opposite bench to Sunderland chief O'Neill, who was his manager for five years at Celtic, in Saturday's Premier League clash at the Stadium of Light.
He spoke to former Villa boss O'Neill before taking charge of the Midlands club during the summer and has contacted him for advice in the past.
Lambert said: "I played under Martin for five years. Martin and Ottmar Hitzfeld (his manager at Borussia Dortmund) are two of the best managers I ever played under.
"They are two different types of people but two of the best managers for me.
"Celtic at that time needed someone like Martin to drive them back up and he certainly did that. It's a huge club and thankfully he took it on.
"I absolutely loved playing under Martin. He could just get the best out of people. That was his biggest thing. His man-management was brilliant.
"It was brilliant and the team that we had at Celtic in terms of the lads I played... it was a fantastic era.
"If I ever need any advice off him I can just pick up the phone. But you learn from your own mistakes and I haven't spoken to him of late."
Rocking
O'Neill quit Villa five days before the start of the 2010-11 season, but in conversation with Lambert was full of praise for the club he steered to three successive top-six finishes.
Lambert admits anyone replacing O'Neill as manager has a hard act to follow given his success at Wycombe, Leicester, Celtic and Villa.
He said: "I don't know what happened (when O'Neill left Villa). What I do know is he had Villa rocking when he was here.
"They just missed out on the Champions League and got to Wembley a few times (twice). That showed you the success he had here, unbelievable success.
"I spoke to him before taking the job and he had nothing but praise for the football club.
"At every club he goes to, he seems to turn things around. If you are going to follow him into a job, or just after him, it is really, really tough. But I think he is a great football manager."
Sunderland have won only one of their last 19 league games while Villa have triumphed just twice in 25 outings.
But Lambert knows the importance of Villa being on top of their game from the first whistle as they look to build on their success in reaching the quarter-finals of the Capital One Cup.
He said: "All the gaffer's (O'Neill's) teams are right at you and this one will be no different.
"We're going to have to weather that as well but by the same token we have to quieten the crowd as well and get at them as well.
"It's not a game where we will go up there and sit back and wait and wait. We have to be out of the blocks quick in every game. There is no point in starting slow and going a goal behind."