Aston Villa striker Christian Benteke admits to Arsenal ambition
Aston Villa striker Christian Benteke has revealed he would love to play for Arsenal one day.
Last Updated: 16/11/12 12:33pm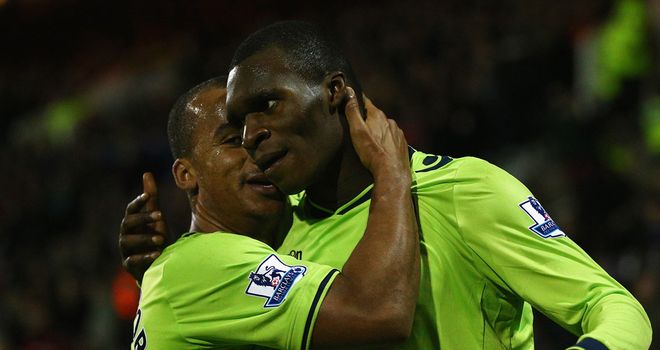 The Belgium striker has impressed during his short time in the Premier League, scoring four goals in 10 appearances for Paul Lambert's side since joining from Genk in a £7million deal in August.
Benteke insists he is happy at Villa, despite thinking they were based in London, but conceded he would love to make the move to the Emirates at some point in his career.
"I am not afraid of making enemies at Aston Villa by saying I loveArsenal. There are worse things one can say," he is quoted by the Daily Express.
"I am a Villa player for now. They are the right club at the right time for me. I have fulfilled a dream by playing in the Premier League. Now it is about staying as long as possible.
"Villa are the beginning of my career in England. I have not just joined any club - although I didn't know their full history, I knew they'd played in the Champions League and won plenty of titles and cups.
"At the time I signed I didn't know where they played. I thought they were a London club. But my friend Yassine El Ghanassy, who plays for West Brom, rang me to say he was glad I was moving to Birmingham and near to him.
"Arsenal are the club I love. I like their philosophy of selecting young players and, besides, they hadThierry Henry in their team.
"For me, he is the best player in the world and he was my boyhood idol."