Aston Villa boss Paul Lambert says he will stick with his policy of signing young players
Paul Lambert will continue to put his faith in youth when Aston Villa travel to big-spending Manchester City on Saturday
Last Updated: 17/11/12 2:29pm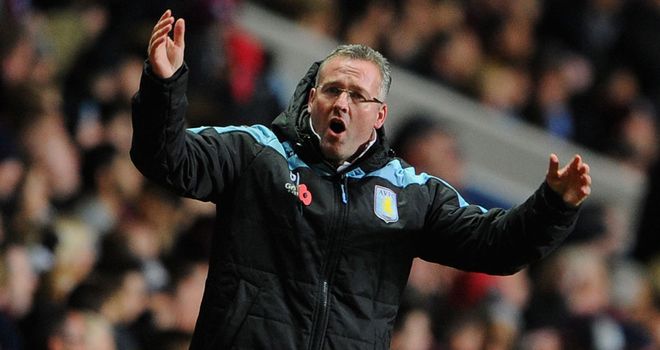 The Villa boss spent just £22m on rebuilding his squad in the summer, with the emphasis on promising young players like Christian Benteke, Matt Lowton, Joe Bennett and Ashley Westwood.
That sum is a pittance in comparison with the funds made available to City boss Roberto Mancini in recent seasons but Lambert's focus on developing young players is a philosophy that paid dividends while he was in charge of Norwich.
Lambert said: "It's my way. I'll not deviate from my way. You speak to other managers and take advice from them. It would always be my decision. Yes, I love to win but the project is long term.
"I know I need to get results but I'd rather a team that is giving everything. I know you take knocks, but it's how you come back from them.
"I think they all growing into it, the young lads. If you look at the average age, it is a very young side but that is great for the future.
"If we keep growing together, we'll have a right strong side. I couldn't ask for anymore, not just the effort but the way they have played.
"Would I sign experienced players? It's not something I'll turn away from. If they have got the right attitude to go and do it, and they fit into the group, then I'd look at that."
As for City's history of big-money signings, Lambert said: "That's something for them. It's not something I've looked at.
"I don't look over my shoulder and think I would love to have that. It doesn't worry me. I'll just consider my own team."