Brad Guzan says Aston Villa's recent results won't throw them off track
Goalkeeper Brad Guzan is backing manager Paul Lambert's long-term plan at Aston Villa.
Last Updated: 28/12/12 12:12pm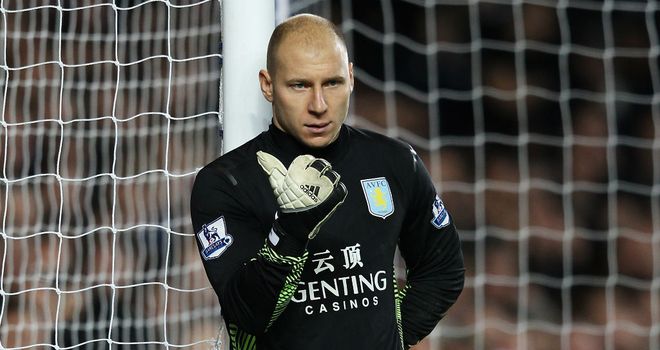 The West Midlands side were hammered 8-0 at Chelsea last weekend before going down to a 4-0 defeat to Tottenham at Villa Park on Boxing Day.
However, the United States international claims the recent results won't throw the side "off track" as they look to move away from the drop zone with three points against fellow strugglers Wigan this Saturday.
He told the club's official website: "It's not the result we wanted (against Spurs) but we have to keep pressing forward.
"It's a bump in the road but it doesn't throw us off the track. We know what we're trying to do here.
"We're still confident as a team and as individuals and confident about where the manager and his coaching staff are taking us. We keep looking forward and moving together and sticking together.
"We know it's not an easy road because every game in this league is difficult.
"For us, we have to take it on the chin and move on. You can't dwell on it too much. You have to find a way to keep moving forward.
"We just try and get better. That's what it's all about.
"We stick together and we are confident about what we're doing as a team and as a club."