Paul Lambert rules out heavy spending during January transfer window
Paul Lambert insists making new signings during the January transfer window is not a priority.
Last Updated: 30/12/12 8:09am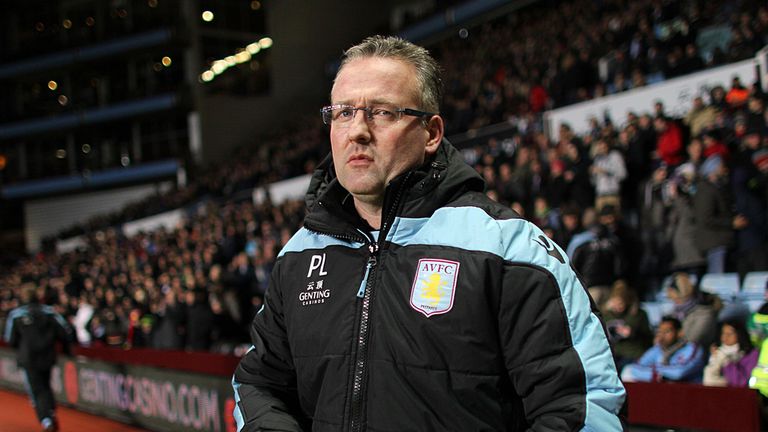 Villa fell to within a point of the relegation zone after fellow strugglers Wigan Athletic inflicted their third consecutive defeat with a comfortable 3-0 win at Villa Park.
The Midlands side conceded 15 times in those three matches and confidence has consequently drained from Lambert's beleaguered young team.
However, when asked if he would prioritise investment in his squad in January, he told Sky Sports: "No. The main thing is to digest what has happened here at the minute and we will see what happens.
"You have got to try and lift the players. We have got a lot of players out and I'm not so sure some are going to come back [soon]. It's a tough time. You have to hang in.
"If we didn't know we were in an absolute fight, [we do now]. We are certainly in one, that's for sure."
Lambert refused to divulge what he said to his players after the Wigan defeat, but insisted that he was solely to blame for the club's poor run.
"It is private what I said [after the final whistle]," he added. "I can't fault the lads for effort. It is my responsibility. I am the manager so I take responsibility."
Critical blow
Ivan Ramis handed Wigan a third-minute lead at Villa Park, before Emmerson Boyce and Arouna Kone both scored in five second-half minutes to complete the win.
Lambert said conceding so early in the match was a critical blow.
"We got off to a terrible start, within a couple of minutes, and it gave Wigan the belief that they could go and play well," he said.
"That's the most important thing - you start a football match right - but we never. Especially from a corner and a crossed ball, you've got to defend it better."
Home fans started streaming out of Villa Park after Wigan scored their third goal, with those who remained booing Lambert's side.
"I can understand it because everybody feels the same," the manager said. "We feel down when we get beaten, so I understand.
"I'm not going to stand here and criticise the crowd. They have been excellent with us."