Paul Lambert plans to strengthen his Aston Villa side during the January transfer window
Paul Lambert wants to add to his Aston Villa side, but not at the expense of putting the club 'into major debt'.
Last Updated: 11/01/13 2:11pm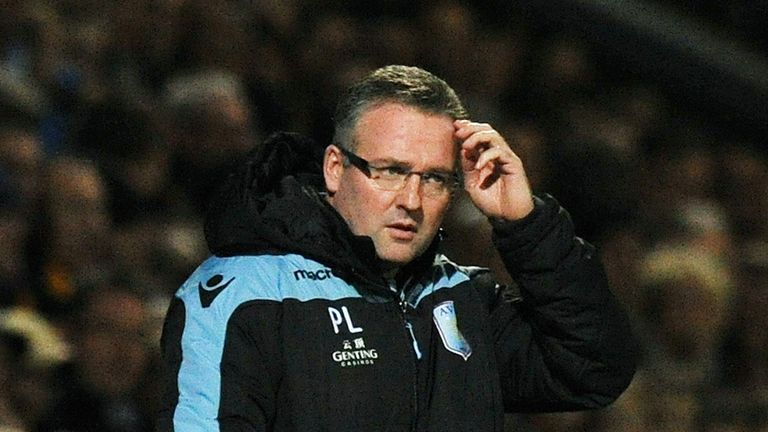 Lambert's men have suffered a string of recent defeats, conceding 17 goals in their last four league matches, and currently sit only one point above the league's bottom three.
With a lengthy injury list, the Villa boss is aware he needs to strengthen his side before the end of the month.
"I understand the finances of it. The club cannot go into major debt. It's got to watch itself," he said.
"It's something I'll meet head-on. I don't know how much, off the top of my head, the chairman (Randy Lerner) has put into the club. I'm pretty sure it's not light.
"I've spoken to him. There are one or two lads there that we will try to get. A lot is dictated by finance. We need a bit of strength in the middle of the pitch.
"Prices in January can be so inflated that you can pay through the nose for someone, and it's a guy you maybe don't want at the club.
"We have to build this club and not let it go back to what has happened before."
Lambert admits he has endured sleepless nights since Villa's shock 3-1 defeat to Bradford in the Capital One Cup semi-final first leg on Tuesday.
He added: "You don't sleep. I think any manager will tell you that. It's not been a great two nights since Tuesday, let's put it that way.
"But I love the pressure of it and you have to meet it head-on. I'd rather have the pressure than not.
"You've got to have pressure to perform and that is the making of football and that is no different for the lads who are here.
"The fans were hurting after the other night and it was an embarrassment. I hurt like everyone else and the players are also hurt by the embarrassment of getting beat the way they did.
"They will want to put things right. The lads are down about what has happened but you have to pick yourself up and go again.
"You get on with it. You can't feel sorry for yourselves in football."
As recent criticism points the finger at Lambert's faith in up-and-coming talents, the Villa manager is quick to defend his team choices.
He said: "This football club has had experienced teams in the past and the position has not changed for the past three years.
"People say the current position is because the players are young. It's nothing to do with it. This club has been in the same situation for three years with really top players at this club.
"We have to build this club and get results while we are building it."