West Brom's Ben Foster is shocked at the plight of Aston Villa
West Brom keeper Ben Foster says it is "unthinkable" that Aston Villa could be relegated this season.
Last Updated: 17/01/13 4:20pm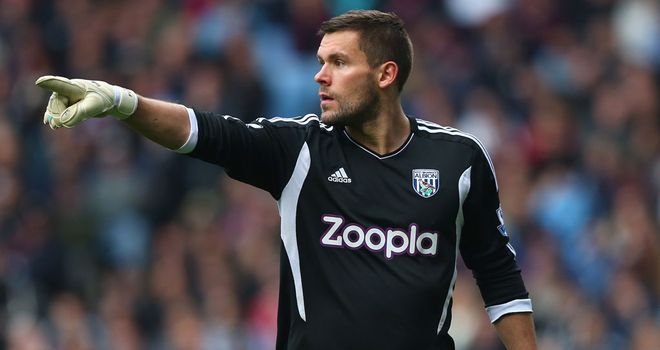 Villa, who dropped into the bottom three last weekend following a run that has seen them collect just one point from five matches, travel to the Hawthorns to face the Baggies on Saturday.
When asked about the prospect of Albion's midlands rivals dropping out of the top-flight, Foster said: "It would be incredible.
"Just driving down the motorway, you see the big stadium alongside and to think they could be playing Championship football is just unthinkable. If you'd said that three or four years ago, you wouldn't have believed it. But times change."
In 2010, under Martin O'Neill, Villa finished sixth in the Premier League and six points off qualifying for the Champions League but since then they have sold a number of experienced players and are now looking to build a side around a crop of youngsters under the management of Paul Lambert.
"If you look at where they have been in the past, they have not only been top dogs in the midlands but a very big team," added Foster.
"Look back only four years ago or so, they had the likes of James Milner, Ashley Young and Gareth Barry, they were beating the top teams regularly and finishing in the top six season in, season out.
"It's a bit of a fall from grace. Times change. With the state of the economy, clubs have had to tighten up and you can notice it around Villa quite a lot to be honest.
"I'm sure in two, three, four years time, they (the young players) will all be fantastic, doing great jobs in the Premier League. But for now, it's tough for them. The inexperience really does show. It's hard for them at the minute."