Aston Villa owner Randy Lerner backs under-fire manager Paul Lambert
Aston Villa owner Randy Lerner has publicly backed Paul Lambert in the wake of the club's recent slump in form.
Last Updated: 29/01/13 7:08am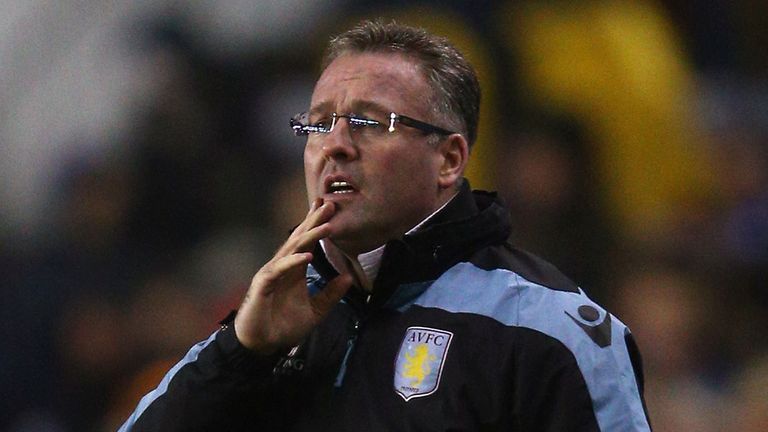 Villa are without a Premier League win since 15 December and were last week dumped out of both domestic cup competitions by lower-league opponents.
But Lambert has repeatedly said he will not walk away, and Lerner wants the Scot to finsh the rebuilding job he was given on his arrival last summer.
A statement from the American read: "In the time that I've come to know Paul what is clear above all else is his strength of character and belief in his approach to football.
"Fortunes can shift quickly in this game and a sense that one has it right can become grave doubt in a matter of a few games.
"The Villa board knew that with Paul we would begin to address the club's multi-year lack of competitive stability by reshaping the squad with seven new signings in the summer.
"It has been rewarding at times this season although certainly frustrating as well, particularly recently.
"During January Paul and the board have discussed a variety of players although nothing has yet materialised, which I know also can be frustrating as fresh players always give at least a sense of progress and optimism.
"Finally, and on a very personal note, I would reiterate that Paul has achieved success at many levels of professional football and I believe, given support, he will continue to do so for us."
Lerner admits there is little time left to strengthen his squad in the January window and said: "At this minute there's not much really happening. There's been guys we went for who have gone to other clubs.
"How many players are we short? There's a few. But I knew the remit of the job was to rebuild. To rebuild something you have to strip it right back.
"But if you are asking me if there will be a vast amount of money available during the rest of the transfer window, there won't be."
There could yet be departures this week, though, with both Alan Hutton and Stephen Warnock linked with moves elsewhere.
Lambert said: "There are things going on at the moment on that side of it, but Stephen and Alan are here at the minute until I hear otherwise."
To find out more about live football on Sky sports, Click here