Paul Lambert desperate to keep forward Andreas Weimann at Aston Villa
Aston Villa boss Paul Lambert is hopeful that the club can agree a new contract with Andreas Weimann.
Last Updated: 01/03/13 12:15pm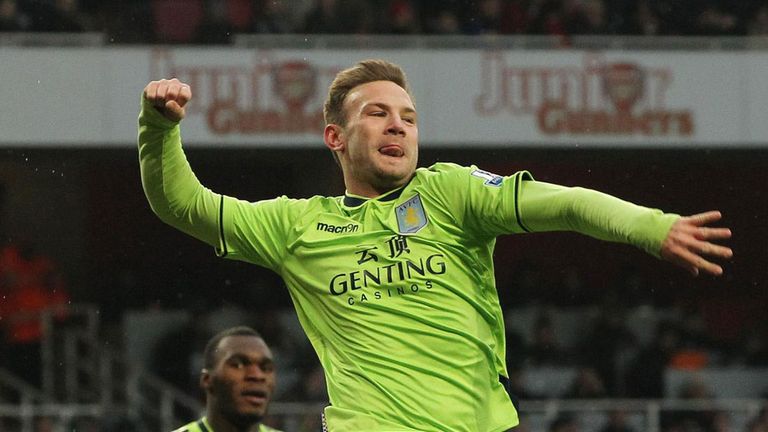 The forward, who still has 18 months to run on his current deal, has yet to reach an agreement over an extension at the club and denies he has already rejected an offer from owner Randy Lerner.
Lambert has confirmed that negotiations are ongoing with the Austria international and is keen for the matter to be resolved before the end of the season as several European sides are reportedly interested in his services.
"It would be great for the long term if Andreas signs. We're still talking at the minute so we'll see what happens there," Lambert said.
"The way he conducts himself on the pitch and in training is excellent. He has been really on top of his game and taken his chance in the first team."
Weimann has previously stated he is happy to stay at Villa but he may reconsider his future should they fail to retain their Premier League status.
However, Lambert remains convinced that the club has enough quality to pull away from the relegation places.
"We have got big games, massive games still to come. There will be a lot of twists and turns over the next couple of months," he said.
"People ask if it's now three teams from four but there are a few teams there who will be looking over their shoulder.
"I don't know what teams it might be but you always find a surprise somewhere. But we are certainly playing well enough (to stay up). The players believe (we can stay up) because of the way we they are playing."
Lambert added: "Sometimes you walk off a pitch and think 'we didn't deserve anything' but that wasn't the case at Arsenal and hasn't been the case in recent games.
"We've played well against the likes of West Brom, Newcastle in the second half, Everton, West Ham."
Lambert is regularly fielding questions about the inexperienced nature of his side, but he said: "The only way you get experience is by playing. To be honest I don't really listen to the critics. That's the honest answer for you.
"We just try and keep our heads up all the time and keep the spirit up. The training feels good and upbeat so to be fair I've not seen their heads go down even in training. They are always upbeat.
"It's important that you bounce back really quickly win lose or draw. We never dwell on it too much. We always keep them upbeat.
"They just need to keep going and keep that spirit and then hopefully we will win more games than not."