Aston Villa boss Paul Lambert says his players are 'easy targets' for referees
Paul Lambert believes it has worked against Aston Villa to have such a young side in terms of refereeing decisions.
Last Updated: 06/04/13 2:28pm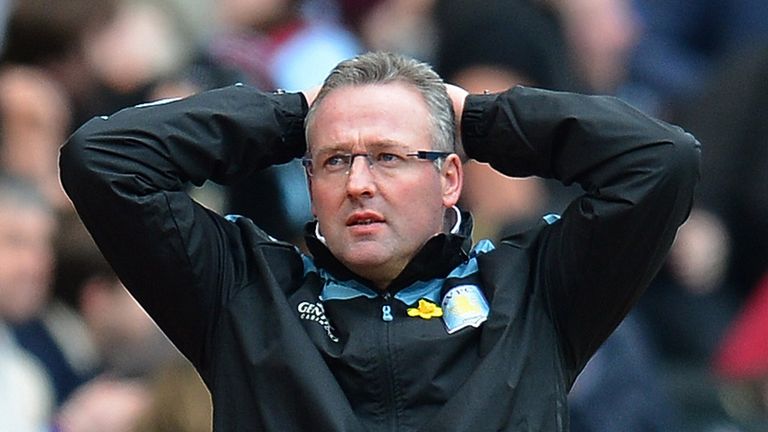 Villa have a poor disciplinary record in the Premier League, having collected 65 bookings, but Lambert does not think the statistics tell the whole story.
Lambert would like to think that officials treat all players the same regardless of their experience, but he does feel that some of the decisions to go against his men this term have been harsh.
"It's funny, that. Some of our bookings are caused by us being young, we're an easy target," said the Villa boss.
"It can work against you if you are young. The referees will say that maybe we deserve some bookings, that's for sure. But some we haven't deserved. I hope it wouldn't be the case that referees are more likely to book lower-profile players, because everyone is equal out there.
"Some of our bookings haven't been justified. Some challenges have deserved yellows, but some you would never think you should be booked for."
Villa are preparing for a clash on Saturday with Stoke City, who have picked up 61 yellow cards as well as three reds this season, but Lambert feels they have more to offer than a tough style of play.
He said: "They are labelled unfairly as just being over-physical because they have some really good players."
The pressure will increase on Tony Pulis if Villa can pick up a vital victory this weekend, but Lambert has a lot of respect for his Stoke counterpart.
"You look at Pulis' record and how he's built the club, it's been fabulous what he's achieved there," said Lambert. "But that's what happens. The fans come and if they are not getting what they expect, it can turn.
"You can go anywhere in world football and that can happen, but for what Pulis has done for Stoke, he's been excellent."
Good referee
Mark Clattenburg, who has given out 84 yellow cards in his 30 matches this season and dismissed six players, will be officiating the match.
Lambert said: "He's a good referee. You know it's going to be a hard physical game, that's for sure. You expect people to be strong, but I like people to play the game the right way.
"Getting hurt is part of the game. It's very rare that you can go through a game and not get hit somewhere or get a cut, anything like that.
"There will be times where you have to put your head in and take the hit."