Aston Villa skipper Ron Vlaar determined to beat the drop
Ron Vlaar insists that the players are fighting at Aston Villa, as they know the consequences of relegation.
Last Updated: 29/04/13 7:37pm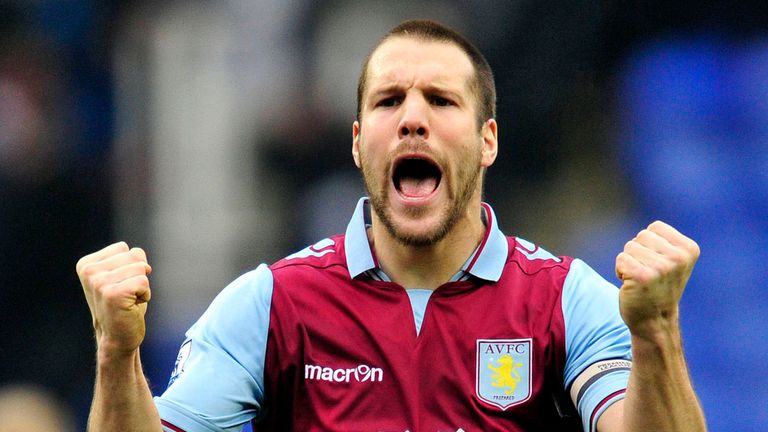 Vlaar has been a hugely popular figure since arriving from Feyenoord last summer, and he admits that the players are thinking about the club's off-field staff - whose jobs could be in danger if they drop to the Championship.
"I know, we also play for them, that's for sure," the Dutchman told the Independent.
"We have to realise it's not only about the players, it's about the club and everybody involved in the club. I just want to stay up with Villa, that's the most important thing for now. If we play Premier League, that's good enough."
Vlaar admits that defensively they have been poor, but insists that the team as a whole have been poor.
"Obviously it's too many goals [conceded] but I think it's not right to blame it only on the defenders; it's the whole team. Of course nobody wants to make mistakes," he said.
"I've looked at myself and I also made mistakes that have cost us goals. We have to do better, that's for sure. Nobody makes a mistake on purpose but it happens. We have to make sure that it happens less times.
"It's my first year in the Premier League and it's different to what I was used to but I think I can do better, I know I can do better. It's not easy but that's one thing I can improve.
"I'm 28 but I think, it wasn't an easy season, but for my first season I could do better, I expect more from myself. I want to stay up and then we have a new season and I think it's going to be better.
"I'm never completely satisfied with the way I play, I always look for games to improve and organise, also in battles, fights, headers, I want to make less mistakes. I just have to be better.
Villa are currently just two points clear of 18th-placed Wigan, who host Paul Lambert's side on the final day of the season, and Vlaar believes in-form striker Christian Benteke could depart in the summer whether they stay up or not.
"He's unbelievably strong," Vlaar added. "He's only 22. I don't think there are young players who have done more than him this season.
"He has been very important and he will be important again in these last couple of games for us.
"He also had to get used to the way of playing in England so he also learned to defend himself, keeping the ball and things like that, so he has definitely become a stronger player."