Ron Vlaar warns Aston Villa there's still work to do after thrashing Sunderland
Ron Vlaar says Aston Villa still have work to do to survive, despite their 6-1 win over Sunderland.
By Rebecca Stephenson (@1rebs)
Last Updated: 29/04/13 11:02pm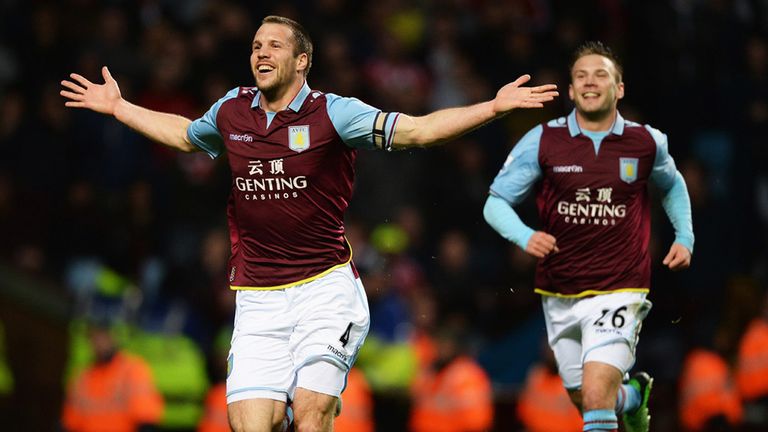 The Dutchman scored the first goal as Paul Lambert's side destroyed their fellow strugglers thanks mainly to a hat-trick from Christian Benteke.
Villa now sit on 37 points alongside Sunderland and Newcastle - five points clear of Wigan in the relegation zone - and they go to Norwich on Saturday when they will try to reach the magical 40-point mark.
Vlaar told Sky Sports: "It's not over yet, we want to win every game.
"We must carry on. Our next game is on Saturday, we want to win that as well and we could do great things as we have today. 6-1 is very good for us."
The result has wiped out the goal difference advantage of both Wigan and Newcastle and the defender knows how important that could prove.
He continued: "We've had to work hard for this because at the end of last year we conceded a lot of goals
"But you see tonight all the strikers have done well, Christian scored, Gabby scored, Andreas scored so it's great for the confidence."
Of his opener, Vlaar added: "I heard the crowd shouting for me to shoot and I had to go for it on the wet pitch because my touch was good.
"Luckily it went in so that was very good for us."
The Dutchman also paid tribute to hat-trick hero Benteke, whose three goals take his tally to 22 for the season.
"I don't think I have to say what he's done for us this season," Vlaar said.
"He's scored so many goals, he's so strong, and we can always give the ball to him. He's very important to us."