A footballing legacy
Alex Ferguson transformed Manchester United from an also-ran to a footballing behemoth through an unrelenting commitment to respect and dedication. Daniel Storey pays his respects.
Last Updated: 10/05/13 9:55am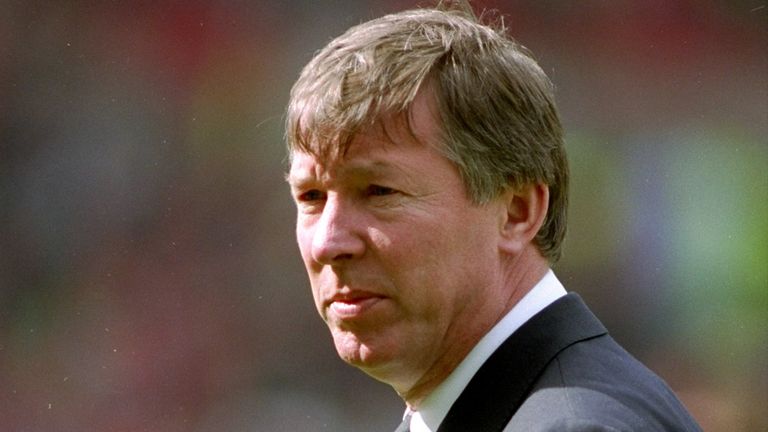 It is a day that all knew would arrive, and yet the shockwaves sent throughout the game are no less pronounced. Perhaps we had simply blocked the impending probability from our minds. After 26 years, Sir Alex Ferguson is leaving his role as manager of Manchester United. He will remain as a director and ambassador but, let's be clear - this truly is the end of an era.
Ferguson reached the status of deity at Old Trafford, the longest-serving manager in the club's existence and the most successful manager in English football history. He took a club in the lower reaches of the First Division and used the commercialism and potential provided by Premier League riches to establish an overpowering force in today's game.
Any deity must be an omnipotent force, and Ferguson created a persona as the most autocratic and domineering manager in the world game. Many clubs aim to portray a 'no player is bigger than the club' air, but Ferguson instead demonstrated that, at Old Trafford, no player was bigger than the manager. Big names came and went, but such was his overwhelming presence, no-one questioned Ferguson, and he was almost continuously proved right. In order to create success, Fergie demanded utter respect from each and every player - a unit can only be at its most effective if all are pulling in the same direction and have complete belief in the ideal.
Such reverence was universally received. As the grief (and that word is not used lightly) pours out from the Manchester United family, the words Sir Alex's departure will generate are not spoken churlishly to create a falsely-generated media hyperbole, but instead simply involve former colleagues eulogising from the heart about the greatest manager with which they all worked.
Application
A footballing deity must also have omniscience, and to simply call Ferguson a 'manager' would be intensely ignorant of his complete involvement in Manchester United's emergence and continued success. Sir Alex looked after each and every one of his players and staff not just as employees or tools to success, but people. He would attend the club's youth and reserve games, go out of his way to talk to the staff at Old Trafford and oversaw the development of United both on and off the field. Ferguson didn't want just a successful team; he wanted an empire.
In a career that spanned the true transition of football from game to industry, Ferguson (along with Brian Clough, Bobby Robson, Bill Shankly and others) showed the importance of several key characteristics - desire, respect, and professionalism. His players needed to require talent, but dedication was just as - if not more - important. Speaking in 1999, Ferguson said "David Beckham is Britain's finest striker of a football not because of God-given talent but because he practises with a relentless application that the vast majority of less gifted players wouldn't contemplate."Such is the man's dedication to the club that even in his leaving speech, his thoughts were of United rather than himself: "It was important to me to leave an organisation in the strongest possible shape and I believe I have done so. The quality of this league winning squad... and structure of the youth set-up will ensure that the long-term future of the club remains a bright one. Our training facilities are amongst the finest in global sport and our home Old Trafford is rightfully regarded as one of the leading venues in the world." It's quite a legacy, that we can all agree.
Ferguson's dedication to ensuring that nothing could stop his side's success can be demonstrated by a story told by Ryan Giggs from 1992. Giggs had attended a house party with Lee Sharpe during a tense title run-in with Leeds United. "He charged into the house like a bull in a china shop, red-faced with rage, like some uncontrollable force of nature." No stone would be left unturned in the complete pursuit of victory.
A man of the fans
But, most of all, Ferguson was a man of the fans. He constantly made the effort to champion their cause, writing an open letter when reports of the Glazers' effect at Old Trafford had, he felt, been misreported. He apologised for defeat and thanked them for support, and it was fitting that his last words as manager were saved for his adoring faithful. "To the fans, thank you. The support you have provided over the years has been truly humbling. It has been an honour and an enormous privilege to have had the opportunity to lead your club and I have treasured my time as manager of Manchester United." Whether you support Liverpool, Manchester City or Manchester United, it is difficult to read that without the hairs rising on the back of the neck. This is a sad day for not just one club, but for the game as a whole.
In football, the word great is vastly overused. Goals, tackles, efforts and even new kits are all described as such, but the word takes on greater significance when converted from adjective to noun. Ferguson may have had great teams, managed great players and inspired great performances but, crucially, Fergie was a Great. More importantly, he was the Great.
13 Premier League titles. 3 Scottish Premier League titles. Five FA Cups. Four Scottish Cups. Five League Cups. Two Champions League wins. Two Cup Winners' Cup trophies. Four other continental honours. OBE. CBE. Sir.
Sir Alex Ferguson.